We are thrilled to update you on all the positive momentum the iScream4Equality Campaign is getting here in Virginia.
On Sunday September 22nd we held our first Barbeque and Sunday Dinner at the EME house and it was a blast.
Here is what Kati Hornung, fearless leader of our partner organization VARatifyERA.org, had to say about it:
Equal Means Equal Invites YOU to Help Make History in Hampton Roads
Equal Means Equal, our 50/50 partner on the #iScream4Equality ice cream tour, has temporarily moved their headquarters to an AirBnB in Suffolk, Virginia. They have rented a very comfortable home through early November and are offering wonderful meals, friendship, advocacy, all the equality talk/strategy you can handle, and a bed to crash in at the end of a full day.
Advocates around the country have begun making travel plans / reserving themselves a spot in the house.
Please click here to reserve a spot at the EME House. Now is the chance (ONLY SIX WEEKS LEFT) to make memories while making history!
What Else is Happening in Suffolk?
Equal Means Equal is also working to build community in their new hometown by hosting events at their house.
So far the weekly calendar will include a happy hour on Tuesdays (5-7 PM) for postcards and fellowship, Friday Night football games in the area (how many parents / students can you talk with in an evening?), and community dinners on Sundays.
A few members of the VAratifyERA campaign joined partners from Black Voters Matter and a few locals at the party today to celebrate the house and the work to be done this fall.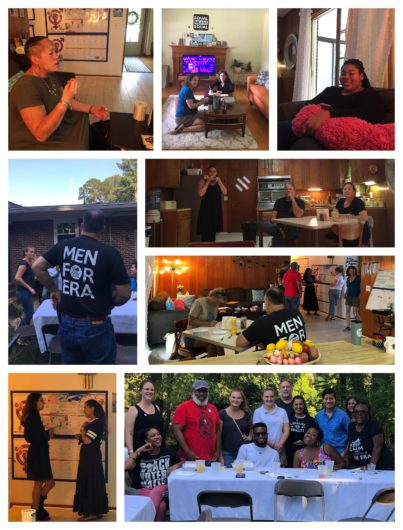 We addressed more than 400 postcards, organized our rally signs and made friends!
Kamala speaks with Marie Albiges, State politics reporter for The Daily Press and The Virginian-Pilot
You never know who you'll see at an EME party and at today's dinner we were thrilled to be joined by a very special guest, Nathan Richardson. Nathan does one of the country's best portrayals of Frederick Douglass and can be found in character around Virginia and frequently up at Seneca Falls, NY.
Today Nathan was with us as a local Suffolk native, not in costume, but still very much concerned about women's equality (as was Frederick Douglass). His presence and insight was a highlight of the day.
Next Sunday there will be a dinner to honor local Panhellenic Councils from neighboring cities/towns. If you are interested in attending please drop us a line for more information.
Thank you Kati and all the wonderful activists and advocates from VARatifyERA for your extremely hard work, EME looks forward to walking the road to equality together over these next six weeks!
The night before the BBQ, Kamala and Natalie travelled to the Norfolk Scope Arena to volunteer for Black Voters Matter at the Trap the Vote concert.
Special thanks to Charles Brown, Shanise Willliams & Travis Price for including us in their important work.
After the Barbeque, Equal Means Equal and Black Voters Matter boxed up all the leftovers into individual meals which they distributed to the homeless in Suffolk and Norfolk, along with a friendly reminder to vote November 5th and "remember the ladies!" 
Check out the video from that night!  Shanise Willliams from Black Voters Matter.  Video courtesy: Travis Price  
Editing: Thilagavathi Siva, Equal Means Equal
All in all, we had a great time, were really productive and we look forward to hosting these Sunday Dinners weekly.  We plan to add Tuesday Happy Hours and Friday Night Lights Events weekly!  Come join us and let's make herstory together!
Love and thanks,
Kamala, Natalie and the EME Team