When we said this year was going to be a busy one we meant it! As the calls for publication continue to grow louder and more widespread, opponents of the ERA have stepped up their game as well.
You may have seen the hit pieces in the Boston Globe and other major publications, dredging up the same tired old arguments and testing out a few new ones too. Even more troubling, it appears they have a new partner in this effort, even if it is only temporary — our own Senators — including those in the 38 States whose constituents clearly voted for equality for all.  Despite claiming to support the ERA, these "allies" have decided to continue to artfully drag their heels, at the cost of thousands of lives, so they have something to drive voters to the polls with next November.
With both enemies and so-called friends of the Equal Rights Amendment united to shove our equal rights back into the corner until they can conveniently drag the ERA back out to score political points YOU are more important than ever.
So what can you do right now? A few things actually. First and foremost we need you to keep the heat on those members of the Senate Judiciary Committee. You've done an amazing job of it so far; we know because they moved the hearing up to this TUESDAY FEBRUARY 28TH at 10AM.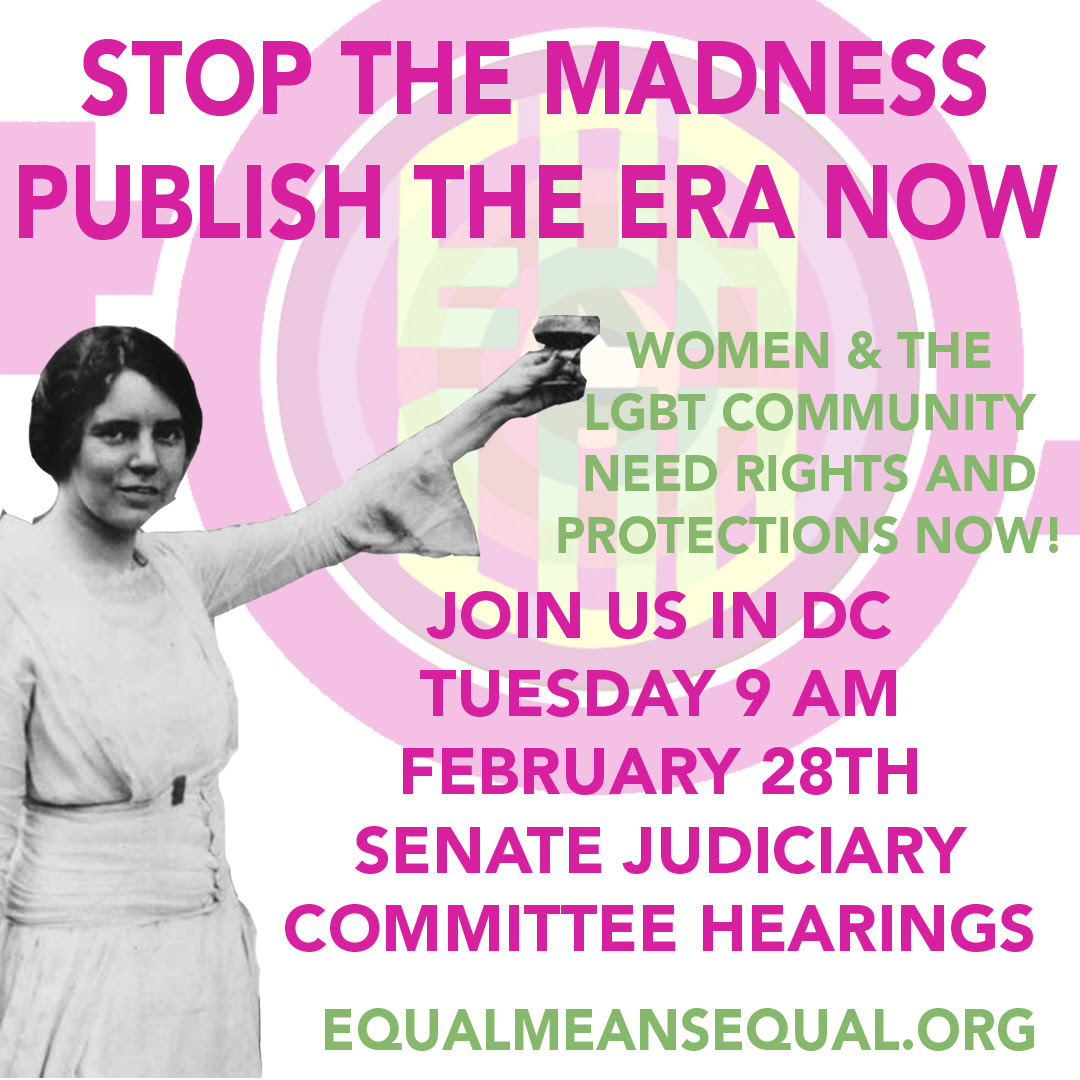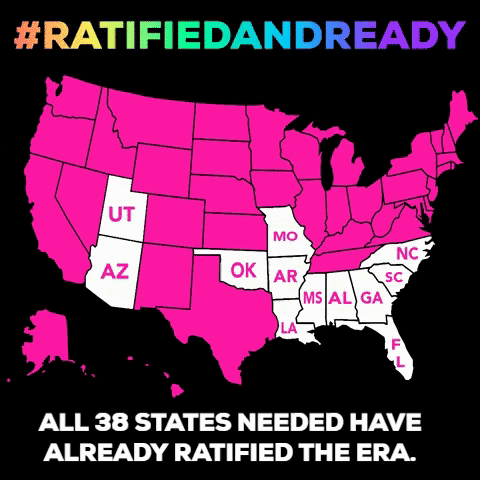 Another important item to get involved in is #ERA100. If you follow us on our socials you've been seeing this around a lot, and probably been wondering what is it all about.
It's pretty simple actually- it is how we finish a century's worth of work towards equality and finally get the ERA in the Constitution where it legally belongs.
You and I know the truth about the ERA, and so do our politicians, but not enough everyday people do, so the most powerful weapon against inequality in the history of the nation sits unpublished and unused.
So how do we educate and engage people from all walks of life to come together?
We throw a party – 100th birthday parties to be exact.
We have put together a recipe for the perfect Centennial Celebration, and we're giving it away for free in our exclusive ERA 100 Cookbook!
From tiny town halls to the Capitol itself ANYONE & EVERYONE can help give the ERA the best birthday present ever – PUBLICATION!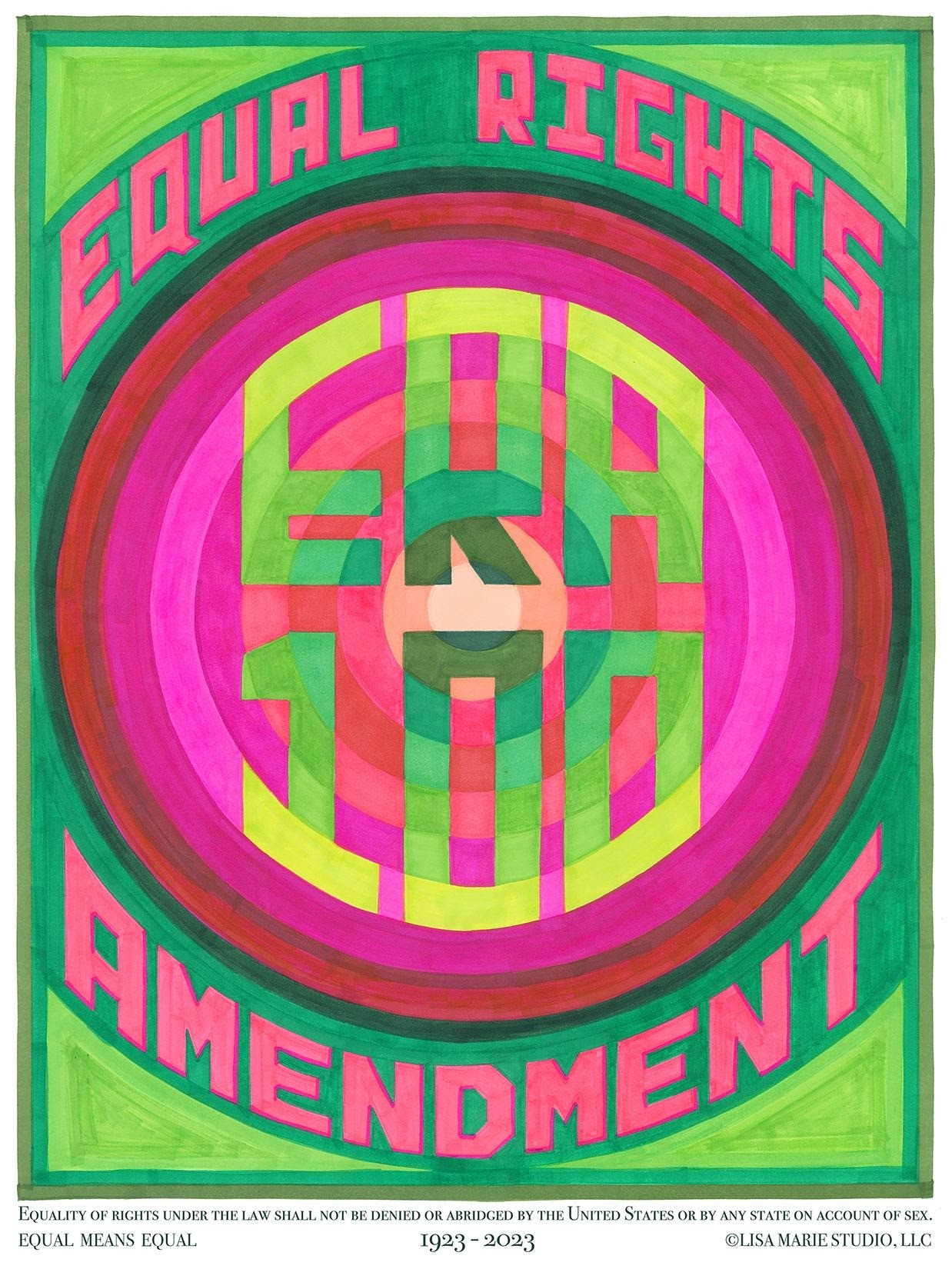 Join us and partners like the Hip-Hop Alliance, Moby Arts, and the City of West Hollywood by RSVPing today, just click the link at the bottom to get started or better yet…Head on over to the Love is for Everyone Bake Sale Fundraiser happening right now at equalmeansequal.org.
We're going to need a LOT of cake, so we reached out to some of our artist friends and asked them to create some visual delights for your eyes to feast on, art does feed the soul after all. Right now for a donation of only $5 or more you will receive 7 exclusive artworks created especially for #ERA100 and available only for a limited time by donation. These high quality digital files of original works created by artists from around the country will arrive in your inbox, along with your invite to ERA 100 Party. Simply head on over to the website, scroll down and click the Bake Sale button to get the party started.
Speaking of friends and partners, be sure not to miss the Hip Hop Alliance Black History Month Conference this Saturday! This online event features exclusive
performances, speeches, panel discussions, including EQUAL MEANS EQUAL's presentation on the urgency and importance of the Equal Rights Amendment. Featuring both artists and activists, this live all day event is starting at 1pm est this Saturday February 25th on their YouTube Channel: https://www.youtube.com/@Hiphopalliance.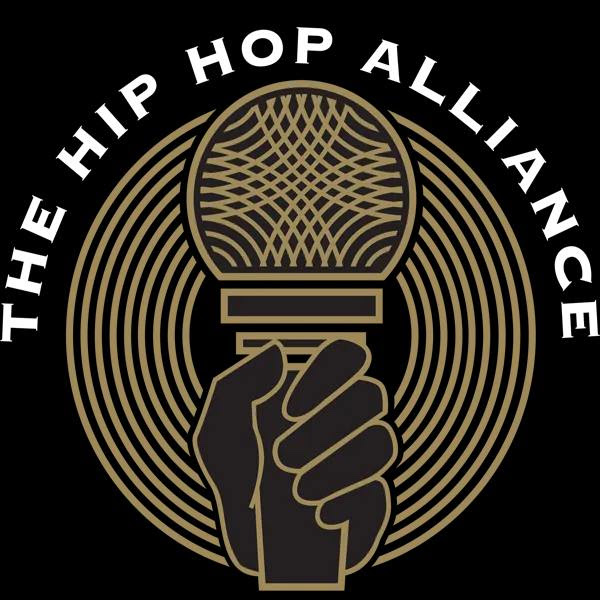 We have never been this close to achieving Equal Rights and Protections for all Americans in the Constitution as we are at this moment; and that is why you see the other side fighting so desperately to stop this from happening.
They know once ERA is published, their reign of terror, against our bodies, our marriages, our books, our very existence – all of it – is OVER. They will fight it of course, but they will lose because the law will finally be on our side, the side of ALL the people.
But that final death blow cannot happen until Biden and the Democrats stop holding the ERA hostage to use in the next election.
We simply cannot afford to wait that long. This IS the moment. Only YOU can Free the ERA.
https://era100.online-rsvp.com/ https://equalmeansequal.org/ https://www.facebook.com/equalmeansequalmovie https://www.facebook.com/groups/era100party https://www.facebook.com/groups/era100vip https://giphy.com/channel/EqualMeansEQUAL https://www.youtube.com/@Equalmeansequal/playlists https://www.instagram.com/equalmeansequal/ https://www.tiktok.com/@equalmeansequal https://www.youtube.com/@Equalmeansequal/playlists https://twitter.com/EqualMeansEqual
Thanks, as always, for your kind support.  Our work is supported completely by you and your donations and we greatly appreciate your donations, large or small. 🙂
In solidarity and with fierce determination, your friends,
Kamala, Natalie, Alice, Nicole, Joel, Tom, Jeff and the EQUAL MEANS EQUAL team