URGENT ALERT:
Equal Means Equal Holds Protest Demonstration in Boston
Dear Equality Supporter,
Equal Means Equal will be holding a demonstration to protest against Education Secretary Betsy DeVos and the Trump Administration for ordering schools to disregard the civil rights provisions for women and girls, presently guaranteed under Title IX.
Join us to protest this regressive and unconstitutional directive:
Thursday, October 19th, at 12:00 pm in Boston, Massachusetts in front of the John Joseph Moakley United States Courthouse!
1 Courthouse Way
Boston, Massachusetts 02210
(617) 261-2440
I know you care about equality for women, women's civil rights, and equal treatment of sexual violence on college campuses; will you take a stand with us to protest this disgraceful act by the Trump administration? Your voice is extremely important in this conversation; we are asking you to please join us in person in Boston this Thursday.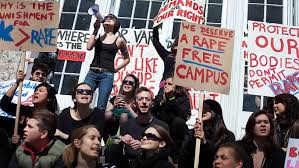 Women have not yet been granted full equality under in the US Constitution, which is why, at Equal Means Equal, we are determined to see the Equal Rights Amendment ratified within this next year. But luckily, for the past fifty years, because of Title IX, women DO enjoy full equality in the special venue of education.
Unfortunately, Secretary DeVos recently announced new guidelines that permit schools to subject women victimized by rape or sexual assault to second class treatment during civil rights hearings on college campuses.
Let's be clear: these people could care less about rape victims' rights and they are actively making campuses LESS SAFE for girls and women. We at Equal Means Equal believe this is definitely the wrong direction and we need to mobilize now.
Please join us to make sure it's loud and clear to our current administration and every administration that women will not stand for their rights being taken away.
If you can't be in Boston, be sure to tune into our FaceBook Live feed on Thursday starting at noon and please spread the word – we will be making a MAJOR ANNOUNCEMENT AT THIS PRESS CONFERENCE.
In solidarity, moving forward with love and thanks,
Kamala, Natalie and the entire Equal Means Equal Team