After five days of the Equal Rights Amendment (ERA) being read in the Virginia House of Delegates, a vote has blocked the amendment from being ratified. If Virginia had ratified the ERA, which 81% of Virginians favor, it would have become the 38th and final state needed to do so. Ratification of the ERA would end a nearly 100 year old struggle for the enshrinement of women's equality in the Constitution.
In addition, on Monday, February 18, EME Co-Director Natalie White was doing a direct action with activist Michelle Renay Sutherland to protest Virginia House Speaker Kirk Cox's unwillingness to let the ERA ratification be debated and voted on. Michelle was arrested for exposing her breast (which was literally re-enacting what is on the Virginia seal) and Natalie stayed and held further protest and direct actions culminating with an all-night vigil leading into the extremely disappointing result this morning.
"The failure to bring the ERA to the floor is an outrage both to women in Virginia and across country, where we are seeing movements growing in states like Arizona, Louisiana, Missouri, and Georgia. There will be  severe political consequences for those who continue to oppose women in this climate by denying us our constitutional protections." said EQUAL MEANS EQUAL Executive Director Kamala Lopez.
EQUAL MEANS EQUAL has brought on John Belluomini as VP of Strategy and launched a new multi-million dollar Constitutional Equality Super PAC that we are readying to use against those legislators who fought this measure come November's elections. We are also fully mobilized and will continue organizing until we achieve the final state and American women receive the protections all people deserve under our laws.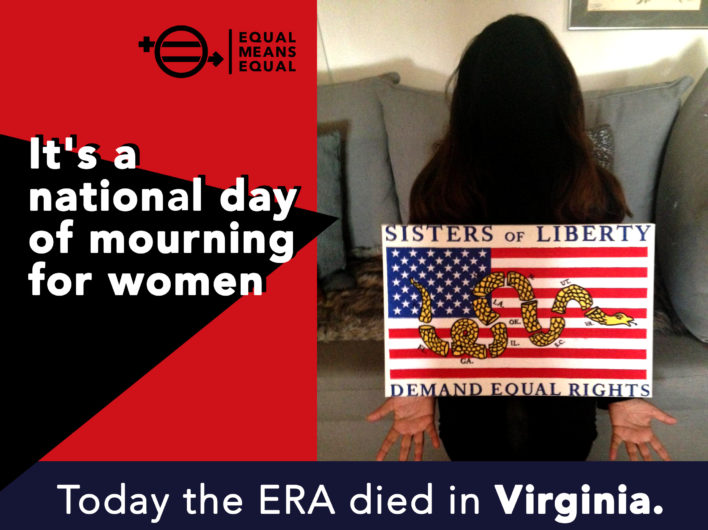 "As a matter of principle and practice in the fight to address discrimination against women, we will continue to fight for nothing less than complete ratification of the Equal Rights Amendment. There is a new movement, with new money and new determination behind this fight and this loss in Virginia does nothing to stop that, but in fact just further galvanizes it. See you at the polls, guys!"  said EQUAL MEANS EQUAL Co-Director and activist Natalie White.
We will not be stopped. We still have South Carolina, Georgia, North Carolina, and Florida. The will of the women of the nation will not continue to be subverted.
We will make it happen this year- American women cannot afford to wait any longer.
There are no more excuses.
With love and thanks
Kamala, Natalie, John and the entire EME team