EQUAL MEANS EQUAL attended the first Senate hearings in many decades on the Equal Rights Amendment in full force.  Our members came out strongly to urge the Biden Administration to publish the ERA and stop using Congress and the Courts to cover his illegal and negligent inaction.
EQUAL MEANS EQUAL activists, including EME President Kamala Lopez, were arrested & taken to the Capitol Jail for disrupting the proceedings.
The hearings were an obvious tactic to:
Give President Biden and his administration cover to continue to hold the ERA hostage by failing to publish the amendment.
Give the Democratic Senators a forum to look good and pretend to be doing something for women.
Position the ERA as a talking point and fundraising opportunity for the 2024 elections.
Set up the loss of the court case as something out of their hands.
EQUAL MEANS EQUAL was determined to make sure that narrative did not fly.
EME member Elizabeth Croydon stood up first, unable to contain her disgust with the misinformation and lies.
We KNOW what they are trying to pull. It was truly disgraceful that they stooped to using the late RBG to push their ridiculous claims that women in America need to start the entire ratification procedure over and go back a hundred years in order to secure equal rights and protections under the Constitution!
That is FALSE.  Women ARE equal. The ERA is ratified and must simply be published in order to be adopted and enforced.  This obligation falls squarely on the shoulders of one man:  President Joseph Biden.
EME Director of Communications, Alice Crenshaw, was appalled as a military spouse to see
the Senate failing to protect and serve the people.
WE ARE PROUD TO STAND UP FOR EQUALITY AND JOIN THE SPIRIT OF ALICE PAUL IN
JAIL


TO PROTEST BASIC HUMAN RIGHTS BEING WITHHELD FROM HALF THE U.S. POPULATION

Senator Lindsey Graham pretended to be surprised when he received a message on his cellphone during the hearing (!) that the Federal ERA lawsuit, Illinois v Ferriero was magically decided at that exact moment and that we had lost on mandamus grounds – meaning that the Court refuses to get involved.

So, just to get this straight:
The Court is passing the buck
The Congress is trying to make a buck
The President doesn't a give a f*ck
And women remain sitting ducks
Senator Graham trotted in a cadre of anti-equality young women, flanked by young suit-wearing dudes (who are so affected by this issue, poor dears) to make the case that women don't need Constitutional rights. Yes.  Who needs pesky Constitutional equality when there might be someone in the Ladies Room you don't like? Let me clutch my pearls, heavens to Betsy.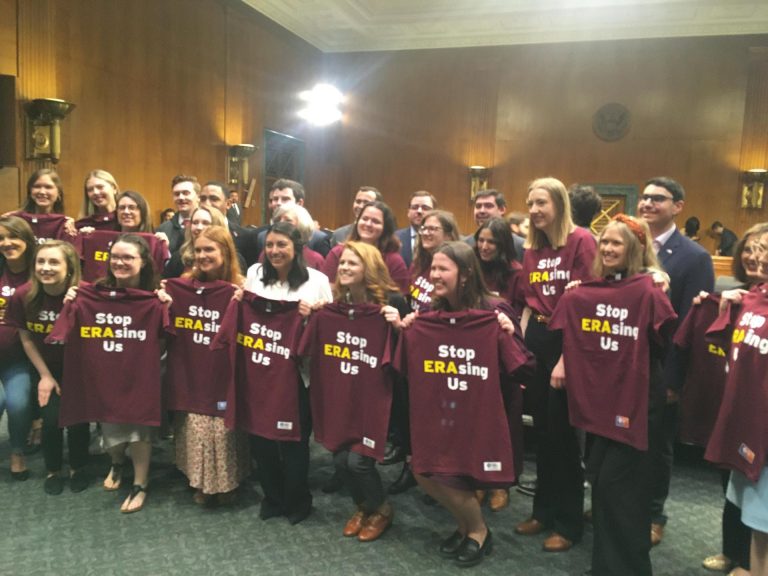 In the meantime, EME Vice President Natalie White made sure that the U.S. Archivist's Confirmation Hearings did not occur without a witness for the ERA.  She was one of less than a dozen people who showed up to hear the Homeland Security Committee grill the nominee, Colleen J. Shogan, on what she would do, should she be confirmed.
Rand Paul wanted to make sure the ERA would not be published by the new archivist; while the nominee, for her part, refused to give a clear answer on whether or not she would do her job, as required by law; register the ratifications of the 38 States and publish the amendment.
Natalie made sure to position herself directly behind the nominee so that our PUBLISH ERA message was clearly visible any time the camera cut to Ms. Shogan.
As you can imagine, our minor outbursts on behalf of all Americans, landed us in the pokey.  Good news, the Capitol Police are wonderful human beings who believe in their mission to protect and serve THE PEOPLE.  Congress might want to take a page or two out of their book.
ERA Godmother Zoe Nicholson reminded us that we join our fearless foremother in spending some time in the Capitol jail to stand up for women and all Americans who deserve equality.  Just ordinary equality.
We were out of jail within an hour without being charged or admitting guilt. Our free speech cost us $50 cash per person. Now that's a bargain!
We thank ERA OG Godmother Zoe Nicholson for her graphic, her support and her example.
Left, Alice, Kamala and Elizabeth; Center image is Alice Paul at the Capitol Jail.
left) Thanks to Judy, Holly, Alice, Eileen, Heather and Jean for standing tall and tough together.
(center) Natalie Louise and Heather (right) Lisa, Gerry Hyland and Judy Lotas in the back
All in all, it's was totally worth
– getting up at 3:30am
– waiting in the freezing cold until 7:30
– getting an embarrassing ten-minute public pat-down
– and a trip to the Capitol pokey in handcuffs.
Why? 
Because
EQUAL

MEANS

EQUAL

.
It was damn cold outside the Dirksen Senate Building at 4am but our passion for justice kept us warm 🙂
We think more field trips to Washington DC are necessary to make sure our voices are heard. If you would like to help contribute to the Field Trip Fund or join us, please go to equalmeansequal.org and donate today.  And don't forget to host an ERA 100 Birthday party in your town on March 22nd!
In solidarity and with fierce determination, your friends,
Kamala, Natalie, Alice, Elizabeth, Nicole, Jean, Joel, Tom, Roberto, Jeff and the EQUAL MEANS EQUAL Team