What a great week for Equal Means Equal! My name is Rachel Donlan and I have been working with EME from Washington D.C. since the Silent Sentinel Vigil. It has been a very intense but rewarding experience.
Our presence in Virginia has been extremely effective; here is an article about the progress and impact activists are having on ERA in that state: Women's Rights Groups Urge Virginia To Ratify ERA.
It began with the sold out Equal Means Equal screening organized by Eileen Bedell at The BYRD Theater which brought out over 200 people including State Legislators who were shocked and motivated to ratify ERA in their state.
With the help of Eileen Davis & Women Matter as well as the excellent State Senator Jill Vogel (R), advocate and supporter of ERA, and multiple other local groups and stakeholders in Virginia we were able to clearly articulate why the Equal Rights Amendment and basic equality for women is a non-partisan issue. The fact that it is a sure economic boon to both state and country didn't hurt, and were able to sign on an additional five Republican legislators to ERA!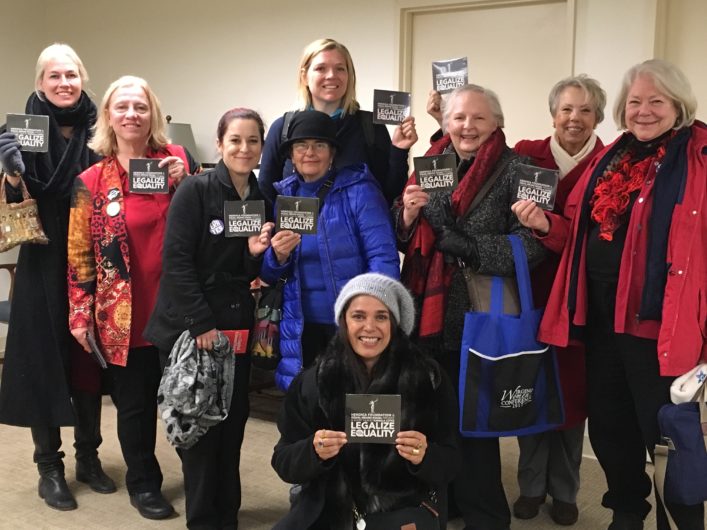 ERA Activists Lobby the Virginia Legislature
We handed out free copies of our short film Legalize Equality to every single member of the Virginia State Senate and House of Delegates!
Next goal in Virginia is the VOTE! Let's keep up the pressure on Speaker of the Virginia State House, M. Kirkland Cox (804) 698 1066 and Delegate Mark Cole (804) 698 1088. These men hold the reins on moving ERA out of the Rules Committee and into Privileges & Elections, where it can get a vote.
On Saturday January 20th, Kamala spoke at the Washington DC Women's March (March to the Polls). It was a very effective speech that did a great deal to push forward our educational campaign for ERA. In fact, stay-at-home moms who made their way to DC have been writing to us, stunned to hear the short introduction to this information on our rights and looking for more. Please ask people to join on our website and support the organization – we are making a difference in this fight!
Here is a link to Kamala's speech at the Women's March:
Kamala Lopez Speaking at the 2018 Women's March in DC
And we didn't end our weekend there. EME was seen in Marches across the country, from Boston to Miami, from San Francisco to DC, New York, Providence, Boise, Traverse City… Take a look at some of the great photos.