We just flew back from Arizona, and boy, are our arms tired — because we handed out thousands of fliers, posted thousands of posters and talked to hundreds of students about the ERA and the chance to ratify it in their state come January!
It was a massive effort.  We mobilized 100 volunteers and put up 3500 posters on 9 campuses across the state and in the downtown areas of cities near the universities.  EQUAL MEANS EQUAL thanks Carmen Linero-Lopez from Feminist Majority Campus, Jami Parrish and Bonnie Aaronson from Tucson NOW, Dianne Post from ERA Task Force AZ and student organizers Lauren Brown & Ayesha Ahsan for their hard work.
EQUAL MEANS EQUAL also hosted two big concerts (Thursday November 1st in Tucson and Saturday November 3rd in Tempe) to help get out the student vote.
EME Team members Natalie White, Joel Marshall, Kim Starzyk & Melinda Reichenbach went down to the ASU football game to invite people to the concert and gave out a thousand fliers with the names of the pro-ERA candidates that signed the EME Equality Pledge while they were at it.
Here are some photos of our trip:
Lauren Brown, Natalie White and Daniela Siqueiros help paper the Tucson area with our message!  Bottom right, the volunteer team lines up in front of Natalie White's Sisters of Liberty banner before the show at the Tucson fairgrounds begins.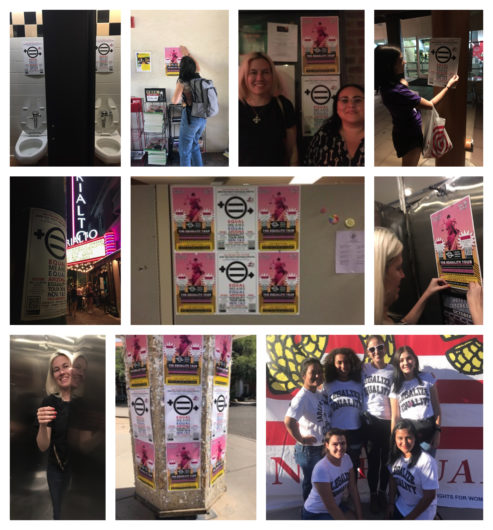 Joel, Kim and Natalie leave the comfort of the Motel 6 to brave the ASU campus in Tempe, where the football game collided with homecoming weekend…
We live streamed the concerts out on Facebook and from our website and had hundreds of people viewing the show from all over the world.
CONCERT AT THE MSA ANNEX FESTIVEL GROUNDS IN TUCSON
CONCERT AT THE MARQUEE THEATRE IN TEMPE
Speakers:
Kamala Lopez & Natalie White  – Executive Directors Of Equal Means Equal
Senator Patricia Spearman – Nevada State Senator and ERA Activist
Senator Martin Quezada – Arizona State Senator Legislative District 29 (a primary sponsor of the ERA in Arizona)
Representative Athena Salman – Arizona State Representative Legislative District 26
Representative Pamela Powers Hannley – Arizona State Representative Legislative District 9 (a primary sponsor of the ERA in Arizona)
Senator Victoria Steele – Arizona State Senator Legislative District 9 (a primary sponsor of the ERA in Arizona)
Representative Isela Blanc – Arizona State Representative Legislative District 18
Representative Mitzi Epstein – Arizona State Representative Legislative District 18
Representative Jennifer Jermaine – Arizona State Representative Legislative District 18
Jami Parrish & Bonnie Aaronson – Tucson NOW
Dianne Post – ERA Task Force Arizona
Carmen Linero-Lopez – Feminist Majority Campus/Western District Organizer
Lauren Brown – Student Organizer, Feminist Majority (University of Arizona)
Ayesha Ahsan – Changemaker Central (ASU)
Musical Performers
Ali Handal & Patricia Bahia
Anthony Fedorov and The Voices For Change Project  
Jason Chu – Hip-hop and spoken word artist
Jared & The Mill
Eugenia Kusmina – Organizer/Producer/Performer
Sam Baxley – Host
Buffy Metler, Emma Pyne, Jessica Winther
Joel Marshall, Or Mash, Terry S
Photographer
Clinton Wallace
Love and thanks, 
Kamala, Natalie, Joel, Rebecca, Thila and the EME Team