We are thrilled to announce the launch of our fabulous new website, which has been a long time coming.  We are deeply grateful to the team that made it happen including our great Creative Director, Tom Martin, and Web Designer, Roberto Maiocchi who have done an outstanding job over many months to produce this functional piece of art.
The new and improved equalmeansequal.org site puts all things ERA right at your fingertips: from events to education, from downloadable free materials, to a shop where you can buy merchandise that supports our work.  Most importantly, it is where you can go to get involved in the fight for the ERA and easily spread the message to your friends and networks. We invite you to take a look and explore.
Areas to visit on the site include:
WHY ERA – Share the basics with folks who are not yet informed about the need for Federal equality regardless of sex and the urgent need for ERA publication.
Our INTERACTIVE TIMELINE of Significant ERA Events on our Home Page.  Follow the recent trajectory of the fight for the ERA; events are clickable and lead to more information about the event highlighted on the timeline.
Our ACTION HUB where you can find out how you can get involved and take action whether virtually or on-the-ground; find out what's on the ERA calendar and submit your own events; schedule a screening or access your Senator's contact info; the list of actions you can take to help is long and growing.
Our CAMPAIGNS PAGE where you can learn about EME's long-term projects in the fight for the ERA and share our educational resources including podcasts, photos, related websites and more.
Our INTERACTIVE INFO HUB where you can reference all the news regarding EME's work for the ERA including the various legal actions, protest actions, rallies, state ratifications, labor and state resolutions, etc.
We owe this section, in great part, to the work of our Advocacy & Policy Strategist, Robert Wood, who has tirelessly compiled, edited and programmed hundreds of entries so you would be able to access any and all the ERA-related information you need in one place.
Our ERA CENTENNIAL Section, dedicated to #ERA100 celebrations in the United States and across the globe. Here's where you'll find everything you need to join the biggest party for equality the world has ever seen – and download it all for free!We thank our very own Glitter Tornado, Alice Crenshaw, for this brainchild that has been inspiring teachers, children and people of good will all over the world.
Our MEDIA LAB where you can watch, download and share all of our fantastic video content as well as connect to all our social media platforms.
And our new SHOP – where you can get your hands on some great new EME ERA MERCH!  Keep checking back, as we are adding fun new items regularly including two limited edition ERA Centennial art T-shirts that glow in the dark!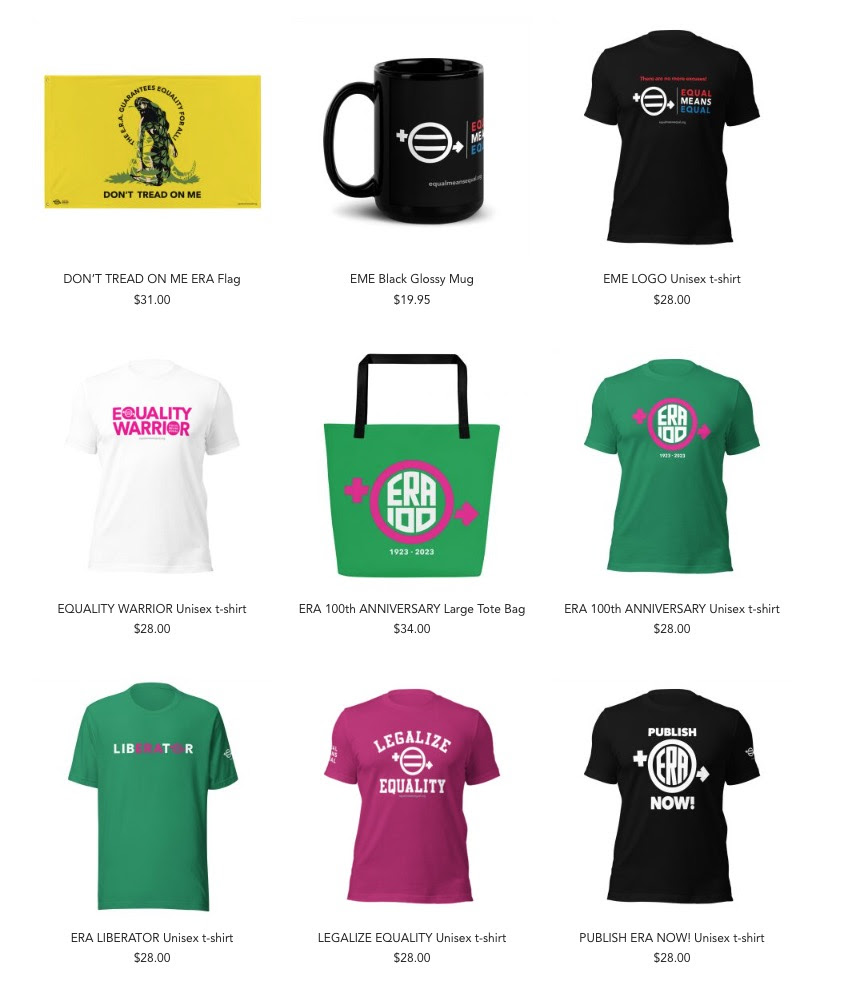 We hope you will take some time to explore the new site; like everything at EQUAL MEANS EQUAL, we did this with the help of dedicated individuals volunteering their time and talent.  Tom, Roberto, Rob, Joel, Alice, Kamala and many others have worked tirelessly to bring this to you and we are so grateful that you care and are hopeful that you will share it.
As you know, we don't toe either Party's line, because EQUALITY HAS NO PARTY.
We may be the oldest and boldest ERA organization in existence today, but we do that without the help of the DNC and many of the traditional funders of women's cause-based organizations.
We truly rely solely on YOU, our Equality Warrior Community, to keep doing this work. Every penny you send goes directly back into the fight – IMMEDIATELY. Just like you, we live paycheck to paycheck and are always in danger of coming up short.
Thank you for your continued and steadfast support.  Together we will keep agitating, educating, and celebrating our way to ERA publication. We will continue to create ways to make it easier to get informed, involved, donate, and connect with each other.
This is our year, and this is the Summer of Transformation.
With love and gratitude,
Kamala, Natalie, Alice, Elizabeth and the entire EQUAL MEANS EQUAL Team