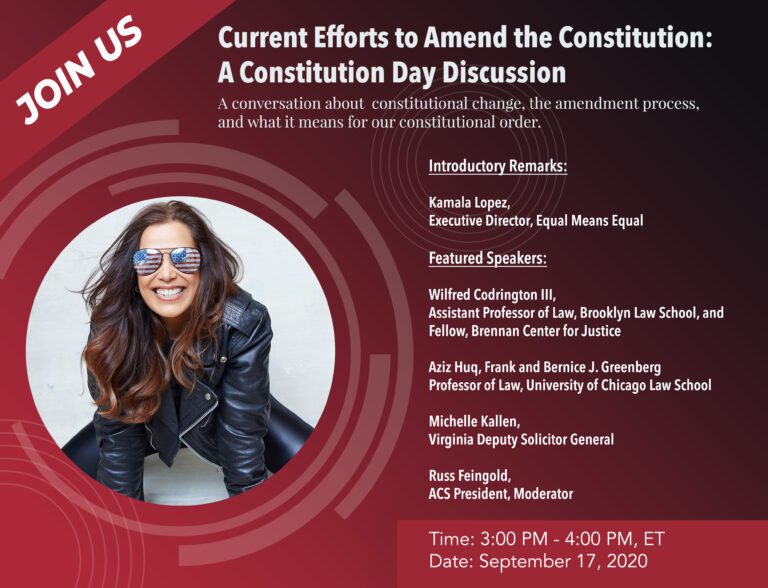 Current Efforts to Amend the Constitution: A Constitution Day Discussion
The American Constitution is by design famously hard to change, and as a result, it has been almost 30 years since it was last formally amended.
Recently, we've seen amendment battles play out in a number of ways. Conservative legal forces, seeking a Balanced Budget Amendment and Term Limits, have been attempting to call a constitutional convention. But could the subject matter of such a convention be limited? And the Equal Rights Amendment, proposed by Congress under Article V's other provision for amending the Constitution, is now the subject of litigation, after Virginia became the 38th state to pass it earlier this year.
Join ACS on Constitution Day for a conversation about constitutional change, the amendment process, and what it means for our constitutional order.
Introductory Remarks:

Kamala Lopez, Executive Director, Equal Means Equal

Featured Speakers:

Wilfred Codrington III, Assistant Professor of Law, Brooklyn Law School, and Fellow, Brennan Center for Justice

Aziz Huq, Frank and Bernice J. Greenberg Professor of Law, University of Chicago Law School

Michelle Kallen, Virginia Deputy Solicitor General

Russ Feingold, ACS President, Moderator
With love and thanks,
EME team
PS: Your generous tax-deductible contributions are an investment in our results-driven organization on the frontlines of the fight for equality. Any amount is greatly appreciated, but for donations of $500 or more we'll send you our exclusive (and very popular!) handmade Equal Means Equal hoodie as a special thank you.