In the words of longtime E.R.A. Sponsor in Illinois, Rep. Lou Lang, "The Equal Rights Amendment is the closest it has been in the past thirty-one years to passing both the Senate and House in Illinois."
From left: Kamala Lopez, Rep. Lou Lang, Natalie White
Starting in 2016, when the AAUW branches in Illinois organized the Chicago premiere of Equal Means Equal at the historic Logan Square theater and Senator Iris Martinez gave the audience a rousing call to action, women's groups all over Illinois have been organizing screenings across the state to get the word out about the urgency of ratifying the ERA. Since then, the film has been shown all over the state in homes, theaters and libraries.
"It is, by far, the number one tool for activating voters.  If you watch the movie, you will get angry. And you'll need to do something with that anger. I finished watching Equal Means Equal and was angry that we did not have equality and that I didn't know about it. I invited a group of friends to watch it and to be aware that I would be asking for their help. Five minutes after the film ended the FB group Friends for ERA Illinois was born and plans were hatched for public screenings with panel discussions. That group merged with other activists around the state to form RatifyERAIL Many of us have been working on moving Illinois to finally ratify ever since. It's frankly an embarrassment that we haven't done it yet. Equal Means Equal and Legalize Equality are the best tools in our toolbox to make ratification happen in Illinois.  The biggest hurdle to Equality is the false assumption that you already have it." – Lisa Kaihara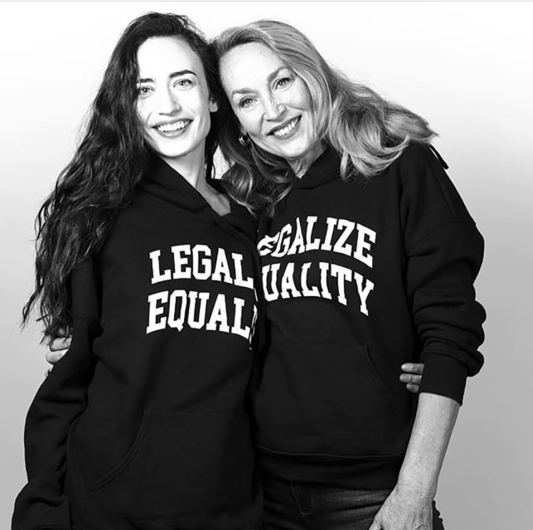 Lizzy Jagger and her mom Jerry Hall Murdoch get behind Equal Means Equal and Legalizing Equality!
Equal Means Equal has teamed up with grassroots organizations all over Illinois to help do what we can to make sure the ERA finally gets across the finish line there in this legislative session.
From left: Maria Phillips (Attorney & Risk Advisor), Jennifer Lee ( Action Illinois and Women Rising-Illinois), Kamala, Natalie and Michelle Fadeley (Co-founder of ERA Illinois Coalition and President of Illinois NOW)
Thanks to the Laura Petroff and Samantha Lerner at the International Law Firm Winston & Strawn LLP we held a screening on Wednesday March 14 in Chicago. It was a huge success, the theatre was packed with lawyers and activist organizers from around Illinois excited and determined to make Illinois the 37th state to ratify!
Kamala and Natalie get ready for the Winston Strawn screening.
Pre-Screening Panel discussion; from left: moderator Laura Petroff (Partner, Winston & Strawn LLP), Jennifer Lee , Linda Coberly (Managing Partner Winston & Strawn, Chicago; Chair of Appellate and Critical Motions Practice), and Assistant Majority Leader, Representative Lou Lang of Illinois' 16th District.
Post-Screening Panel discussion; from left: moderator Laura Petroff, Kamala and Natalie
The following day we were proud to be one of the organizations co-hosting "She the People," a Second City comedy show with an all-female cast performing about the sheer hilarity of what women have to go through on a daily basis.
From left: Lisa Kaihara (RatifyERAIL), Peggy Sutor, Jennifer Grochowski, Kamala Lopez, Natalie White
On Saturday March 17th, before we flew out of Chicago, we had the honor of attending the Rainbow Push Coalition's "Ain't I a Woman?" luncheon.
This lunch served as the kick-off for their reinstatement of the Rainbow PUSH Coalition's Women's Division once spearheaded by one of their most notable women, Reverend Willie T. Barrow also known as The Little Warrior.
Awardees at the Ain't I A Woman? Luncheon at the Rainbow Push headquarters in Chicago
We were ecstatic to be invited to become members of the Rainbow Push Coalition  (
https://rainbowpush.org
) and we look forward to working together to ratify the ERA in Illinois!
Special thanks to Sue Friedman of NorthWest Suburbans Organizing for Action for facilitating this, and so many other things for us, while we were in Chicago!
From left: Natalie, Kamala, Sue Friedman and Florence Palumbo-Zilka of the Stand With Women group of the NWSOFA.org (Northwest Suburbs Organizing for Action) at the Rainbow PUSH Coalition luncheon
There is a lot more to come on our upcoming fight in Illinois – please join our social media to stay on top of fast-moving news. We are working hard and we really need your help. So please get ready to show up in person there soon, and if you can't please consider donating to help fuel the fight!