"The ERA is now the 28th Amendment because three-fourths of the States have ratified it and the congressionally imposed ratification deadline is a legal nullity because Article V nowhere authorizes Congress to impose ratification deadlines on the States. …allowing Congress to impose ratification deadlines on the States violates Article V because it tips the balance of amendatory powers unconstitutionally in favor of the National government, and against the equal amendatory rights of the States."
So, in part, reads the fantastic new brief filed by EME Legal Counsel Wendy Murphy in our appeal to the First Circuit Court.  The arguments presented are clear, extremely well researched & presented and, frankly, irrefutable; please read the new brief here.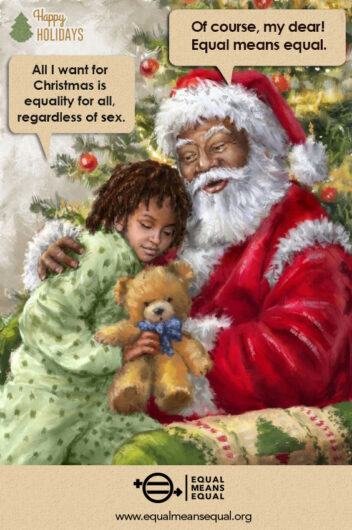 Our #PublishERA Campaign is going like gangbusters – if you haven't signed up and sent in your video, please do so now!
We are also happy to add several new amici to our growing list of organizational friends including:  Equal Means ERA, Feminists in Struggle, Henry County Citizens for Choice (MCCC), Renew Our Earth, Sherri L. McLendon, MA, Strauss Consulting, and Williamsburg JCC Indivisible.
Please take a look at our full list of amici here.
And finally, pencil in 6pm PST/ 8pm CST/ 9pm EST Saturday, December 19th!  Equal Means Equal would like to invite you to an end-of-year virtual holiday gathering!
Join us for Christmas caroling by the Heavenly Voices and other musical guests, stand-up comedy from hilarious comics, a silent auction and many prizes! Have a favorite Christmas carol?  Send in the name of your favorite holiday song and we will ask the carolers to sing it for you!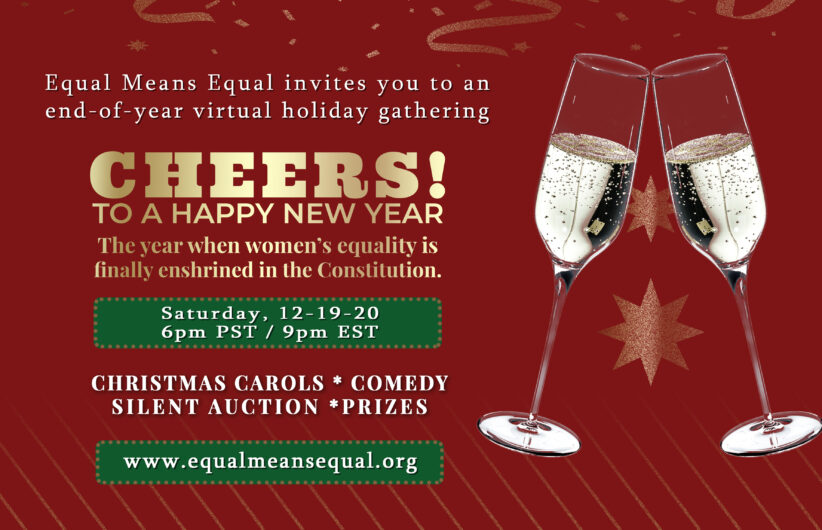 Join the free fun and let's raise a glass together, put 2020 behind us and toast to 2021 – the year when women's equality is finally enshrined in the United States Constitution.
With love ♥♥♥, gratitude and hope for a wonderful new year,
Kamala, Natalie, Liz, Thila, Wendy, Joel, Rebecca and the entire EME Team
PS: Your generous tax-deductible contributions are an investment in our results-driven organization on the frontlines of the fight for equality. Any amount is greatly appreciated, but for donations of $500 or more we'll send you our exclusive (and very popular!) handmade Equal Means Equal hoodie as a special thank you.