Welcome to our favorite season, the Fall of the patriarchy! While temperatures may be cooling off, the fight for equality is heating up and we are closer than ever to achieving publication. Our busy summer is already paying off and we are going to use that momentum to put us over the finish line, so let's go!
Women's Equality Day Weekend was busy for us on both coasts; our Glitter Tornado, Alice Crenshaw, headed to DC for the National March on Washington and we made some big waves out west with the opening of the ERA Feminist Art Show in West Hollywood.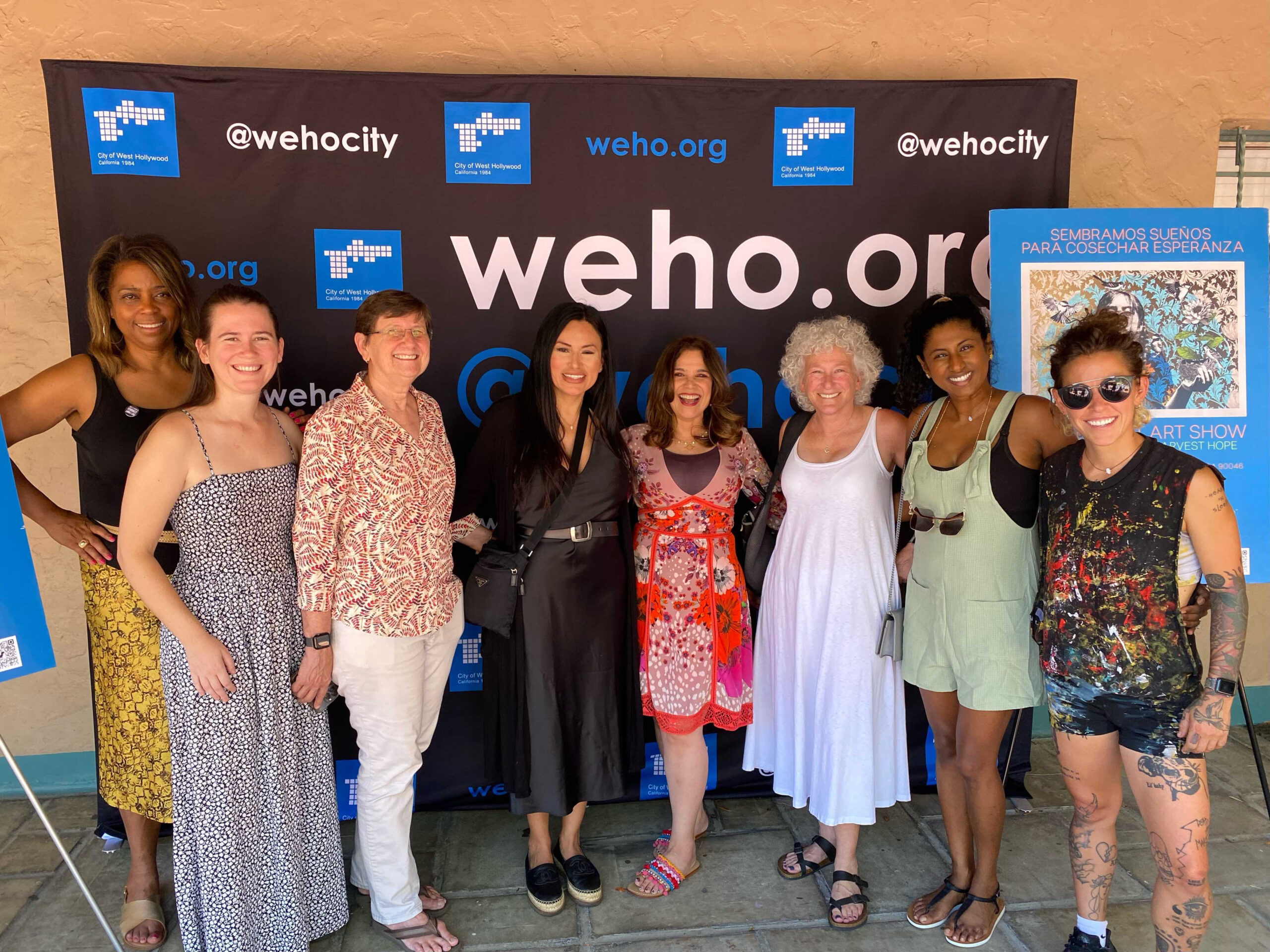 Alice Crenshaw & Triana Arnold James at the MLK monument; the West Hollywood Women's Advisory Board flank Natily Gonzalez and Kamala at the ERA Feminist Art Show Opening
Presently, female artists are systematically shut out of the upper echelons of the art world and vastly underrepresented in art museums, shows and collections. In the United States over 85% of the artwork displayed in museums are created by white, male artists; so EME teamed up with Moby Arts LA to bring you an ALL FEMALE show featuring some of today's hottest artists!
Below is a video about the show and an article about it in the WeHo Times:
Today nearly 70% of fine arts degrees are earned by women and nearly 50% of visual artists today are women, yet a woman's work sells for around 40% less, on average, than a man's.
In fact, of the close to 200 billion spent at art auctions between 2008 and 2019, work produced by women accounted for only around 2% of the total sales.
The sad reality of gender bias in the art world is exemplified by the fact that when a man signs a piece of art it increases in value, and when a woman does, the value goes down.
EQUAL MEANS EQUAL is determined to help change this egregious situation, and hope you will join us by supporting the extraordinary work of our featured artists and buying their extremely well-priced original art. It's a triple win: the artist is compensated for their work, our non-profit receives much-needed support and you own a gorgeous artwork that will bring you joy and increase in value for years to come.
Below is a link to the online auction for truly unique and distinct pieces by Lapiztola (Rosario Martinez), Whitney Yoh, Mynxii White, Natalie White, Amy Smith, Siyowin, Elyse Pignolet, Sara Sandoval and Corie Mattie.
This is a raw html block.
Click the edit button to change this html.
Corie Mattie (LA Hope Dealer) and Mynxii White are two of the artists featured in our show.
This powerful collection can also be seen in person at Long Hall in Plummer Park, Friday-Sunday 12-5 through September 26 for FREE, thanks to our friends at the City of West Hollywood, the City Council and the Women's Advisory Board.
If you live in the NYC area you can even help fuel the fight while getting in a few laughs! Now that equality warrior Elizabeth Croydon has finished her engagement at the DC courthouse, she can get back to her preferred venue and what she does best, being on stage and making people laugh. She's bringing some of her funniest friends and her Radical Agenda to the West Side Comedy Club on September 14. Grab your tickets before they sell out now at:
https://www.westsidecomedyclub.com/events/elizabeth-s-radical-agenda
In our nation's capital, EQUAL MEANS EQUAL was proud to partner with the National Action Network (NAN), the Drum Major Institute, NAACP, ACLU, and dozens of other organizations for the 60th anniversary of MLK's famous march on the Capitol to continue the fight for equality.
Much like with the 14th amendment, it is going to take a massive public outcry for the 28th amendment to be recognized and enforced. In this country simply passing a law has NEVER been enough; something Yolanda King reminded the marchers gathered at the Lincoln Memorial: we must take our hard won rights, they will not be freely given.
Yolanda King wasn't the only one dropping truth bombs on Women's Equality Day–
Presidential candidate Marianne Williamson, fresh off an appearance at the Georgia NOW conference, became the first candidate to officially #Pledge2Publish the Equal Rights Amendment on DAY ONE of her administration.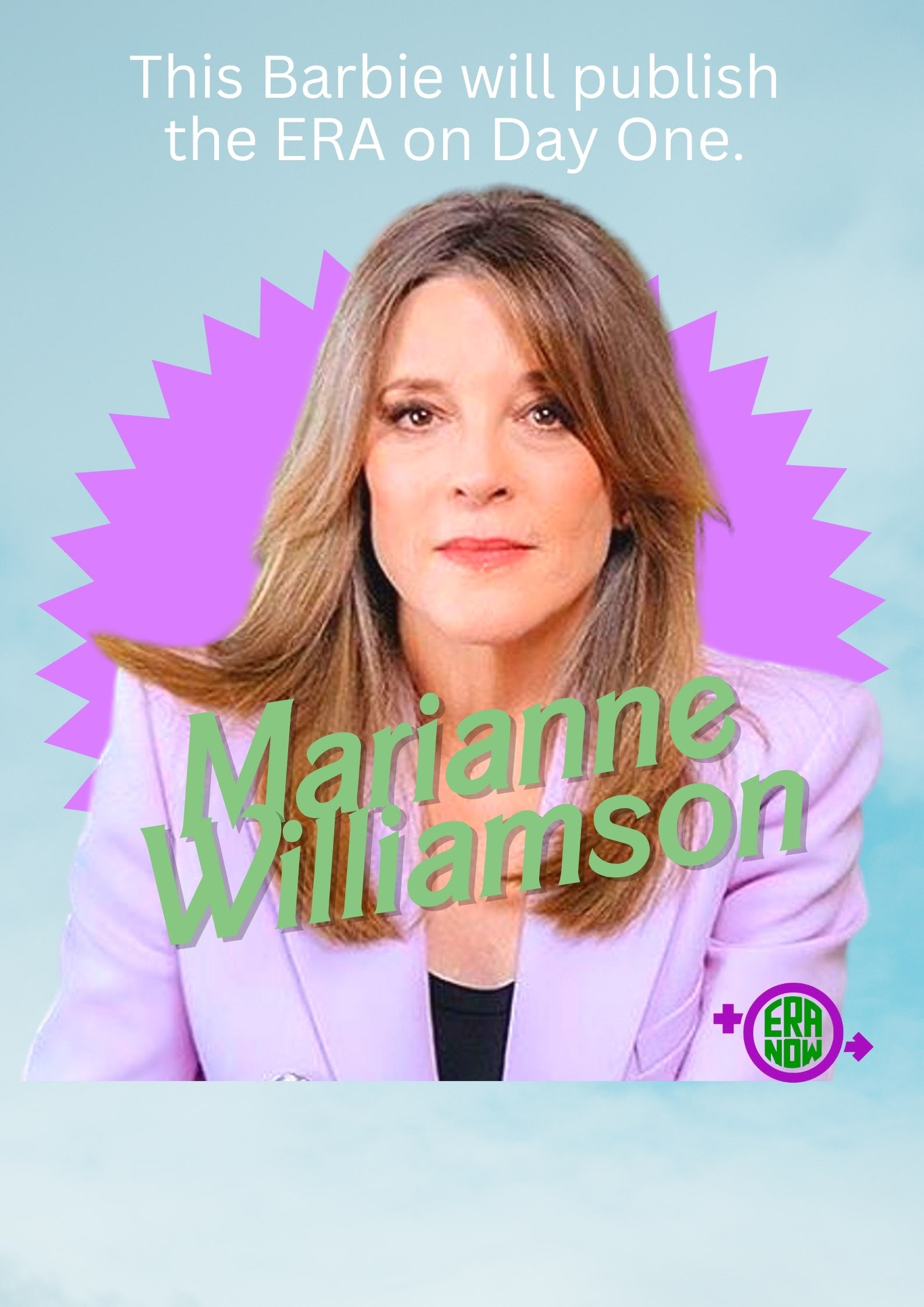 Once it was clear the memo from the now disgraced Trump Justice Department was not legally binding, Candidate Williamson loudly and proudly voiced her support for the immediate publication of the ERA, restoring the process to its proper order.
Thus far Marianne is the ONLY candidate who will follow correct constitutional procedure rather than a Trump memo; it's one thing to say you support the ERA, it's entirely another to actually do it.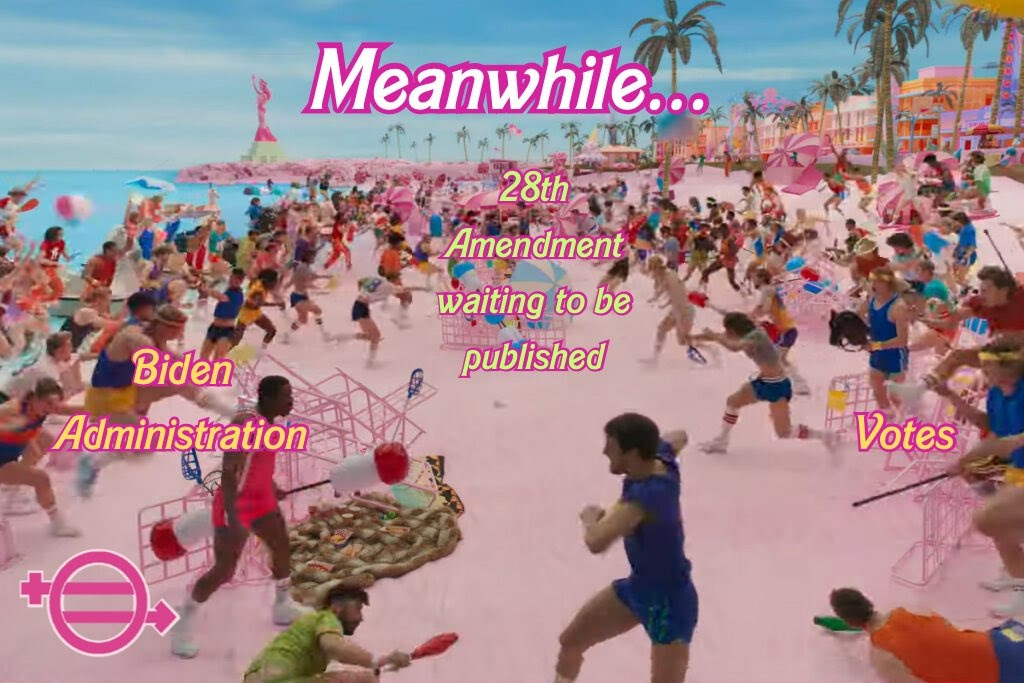 It was a great summer. We traveled thousands of miles, attended scores of events, marched, rallied, petitioned, and so much more to bring the ERA back into the spotlight; and you know what? IT WORKED.
The ERA is now a topic in the Presidential race, and we are going to ask every single candidate running for every single office point blank whether or not they believe women and LGBTQ people should be in the Constitution.
Do these candidates agree with the American people and Article V, or with a disgraced Justice Department and corporate interests?
Just like the 24 word amendment itself, the answer is simple – YES or NO.
So here's to the Fall; and new Constitutions for Christmas 😉
with love and gratitude,
Kamala, Natalie, Alice, Shannon, Natily, Joel, Tom, Roberto, Rob and the entire EME team 
P.S. While you're checking out the art, please take a look around Better World, the newest way to join the party for publication. Opponents to equality are using every tool at their disposal to keep us out of the Constitution so we've added some new ways to fight back too – and they're right here on https://equalmeansequal.betterworld.org/
Planning a girls night? Forget the wine shop, order a case of Italian Reds from Better World and we get a portion of the proceeds and you get to write it off on your taxes; we've got vacations and experiences too! Looking to promote your business or product? Donate goods or services to the cause and you'll get a free promo reel, a new customer, and not lose a dime because it too is a charitable donation.
If you're going to buy something anyway, why not fuel the fight for equality while you're at it? We can't just fight harder, we've got to fight smarter.