As the temperature heats up, so has the battle to Free the ERA. With your help we have made incredible progress on spreading the truth about the Equal Rights Amendment – through social media and the press, rallies and protests, and of course the occasional "Field Trip" to DC to make sure the Powers that be can't do their dirty work in peace and quiet.
Most importantly it is all of you talking to your friends and family, sharing the content with your coworkers and followers, calling, texting, emailing, tweeting and tagging the President and your Representatives that is helping to turn the tide.
We all know how the "RollCall on Equality" turned out; and thanks to our Resident Agitator, Elizabeth Croydon, so do a LOT more people. She went through a lot standing up for all of us; including being shackled for hours, denied contact with her lawyer (or anyone) for a full day and catching a charge of "Unlawful Entry". We aren't exactly sure how one illegally enters a place with an Official Pass from a Senator's office, going through multiple checkpoints and even checking in your purse but we'll be finding out next Tuesday morning, May 16th, and would be delighted for anyone in the DC area to join us in supporting Elizabeth as she returns to DC next week to stand trial for standing up for all of us.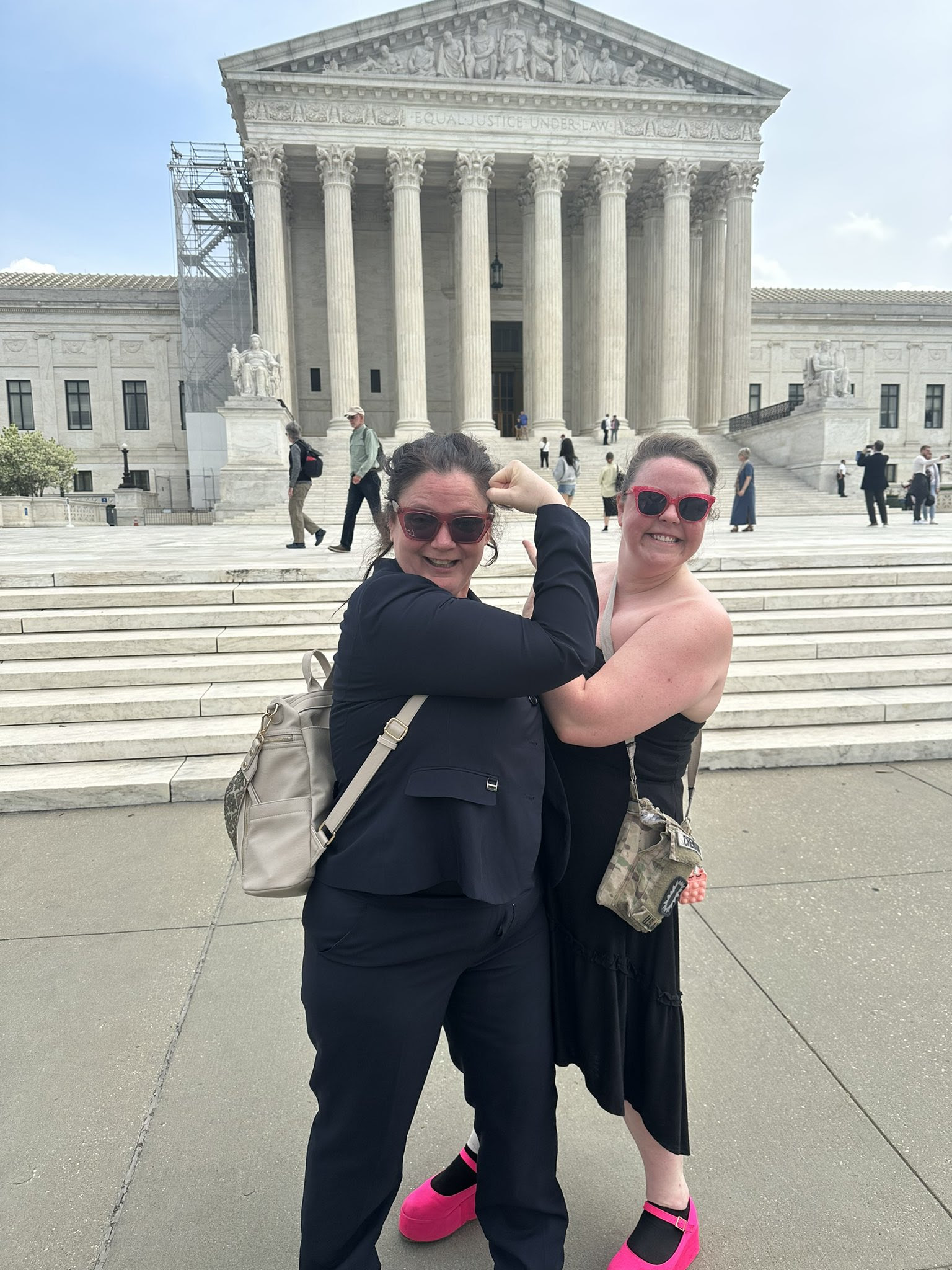 Elizabeth Croydon, EME Resident Agitator, and Alice Crenshaw, EME's Glitter Tornado outside SCOTUS where "Equal Justice Under Law," while engraved in stone, is still aspirational
"I'm comic Elizabeth Alice Croydon. I interrupted Senator Ted Cruz from the Senate Gallery while he voted against women's equality.
I spent a day and a half in jail and I'd do it again — because discussing a deadline is unnecessary. The amendment is ratified and ready.
It's time to get loud. Join me! Lift your voices any way it takes to be heard. We serve the military. We maintain households. We lead our country. We are equal, and EQUAL MEANS EQUAL."
We've also cooked up something special for all the Senators who voted to keep Women and the LGBT community out of the Constitution; a special little series we are calling "The UN-Wanted."
We will be kicking things off with a particularly odious duo from a State that just passed a law allowing them to seize people's children if anyone in the family is suspected of being Transgender, which applies to both residents AND visitors – Florida.
Senators Marco Rubio and Rick Scott are rarely far from shady business of some kind and the ERA vote was no exception. Let's help them have the week they deserve.
Each and every one of those 46 Senators is getting their very own "UNWanted" Poster and a reel telling the world and their constituents exactly how they feel about equality.
Every week a new State will be featured, with both digital and printable materials for you to put them ON BLAST.
It is true that our opponents are busy, rolling out an average of 30 bills a day to strip away rights of some kind; and even some allies have been scared back into the same old "vote and hope" mindset. NOT US; and if you're reading this, probably not you either.
The publication of the ERA means we will finally be able to win the battles our mothers and grandmothers fought FOR GOOD.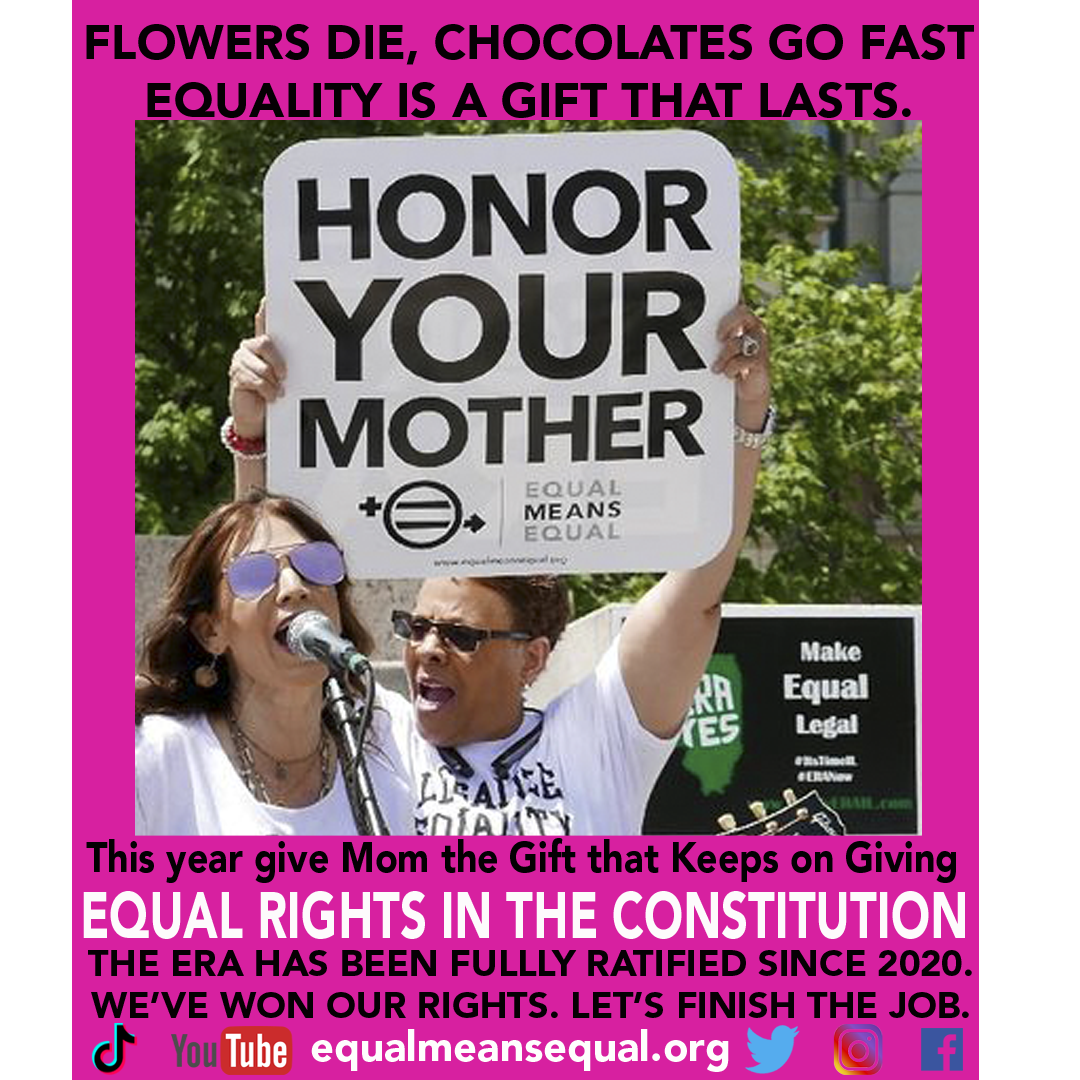 Nevada State Senator Pat Spearman, who got the ERA ratified in her state, along with EME singer/songwriter Ali Handal at EME's ERA rally in Illinois
What better way to honor their legacy than with a gift to a cause that HONORS THEM. Any gift of $100 or more or a monthly contribution of $25 and we'll send out a personal thank you card to your Mom.
FLOWERS DIE, CHOCOLATES GO FAST
CONSTITUTIONAL EQUALITY?
NOW, THAT'S A GIFT THAT LASTS!
Here's to buying new Constitutions for everyone for Christmas!
With love, in solidarity and with fierce determination, your friends,
Kamala, Natalie, Alice, Elizabeth, Joel, Rob, Tom, Roberto, Jeff, Arlaine and the EQUAL MEANS EQUAL Team