On Tuesday May 21st EQUAL MEANS EQUAL launched the Campaign for Equal Rights (#EqualMeansEqual), a public influence/social media campaign with a star-studded reception at The Paradise Club in New York City.
The New York Times featured the event in a headline that blared "Rupert Murdoch Is a 'Big Feminist,' Says His Wife, Jerry Hall"! The article read, in part:
"…the "Equal Means Equal" campaign kickoff drew a glittery crowd to the Times Square Edition hotel… Here was Lizzy Jagger (the daughter of Ms. Hall and Mick Jagger, who has been a lobbyist for the cause since 2016) conferring with her sister, Georgia May Jagger, and their Stones "cousin," Theodora Richards. There was Fran Lebowitz, sandwiched among Peter Brant Jr., Amy Sacco and Anne Dexter-Jones.
Nicky Rothschild and her sister, Paris Hilton, a host of the event, partied like it was 1999. When Ms. Hilton took the stage, every smartphone tilted toward her, like worshipers facing the sun.
"When I got the text from Lizzy, I actually had no idea that women didn't have equal rights," Ms. Hilton said. "It's 2019 and it's crazy and it's criminal at this point that women don't have the rights that everyone else does." 
The crowd hooted in agreement and took selfies: hashtag#equalmeansequal."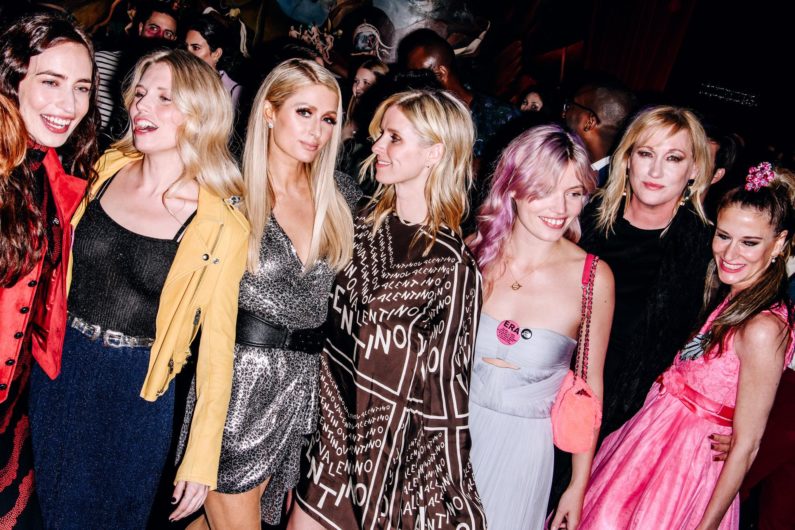 From left, Lizzy Jagger, Theodora Richards, Paris Hilton, Nicky Hilton Rothschild, Georgia May Jagger, Amy Sacco and Stacy Engman. Nina Westervelt for The New York Times
Jerry Hall, Paris Hilton, Lizzy Jagger, Georgia May Jagger, Patti Hansen, Theodora Richards, Nicky Hilton, Young Paris, Ann Dexter Jones, Ally Hilfiger, Mashonda Tifrere, Erin Wasson, Peter Brant Jr, John Targon, Raheem Sterling, Will Cotton, Julio Santo Domingo, Nanette Lepore, Natalie White, Amy Sacco, Jackie Evancho, Mary McFadden, Stacy Engman, Fran Leibowitz were present at the event.
Tracey Emin, Hank Willis Thomas, Marc Quinn, Will Cotton, EME's own Natalie White and more artists donated their work for the campaign at a silent auction. (www.artsy.net/equalmeansequal)
Grammy Award-winning solo artist, backup singer for the Rolling Stones from 1989 to 2015, Lisa Fischer, entertained the crowd with her show-stopping performance.
Lisa Fischer, a famed backup singer of the Rolling Stones, performed. Nina Westervelt for The New York Times
EQUAL MEANS EQUAL'S Executive Director Kamala Lopez was speaking at Stanford Law School at Palo Alto but sent a video which was screened at the event.
Paris Hilton and Lizzy Jagger spoke to why they supported EQUAL MEANS EQUAL and the campaign to ratify the Equal Rights Amendment, #EqualMeansEqual, vowing that the social media campaign will continue until the ERA is passed.
Stay tuned in the coming weeks for instructions to participate in the #EqualMeansEqual campaign from home!
"Lizzy texted me and asked me to be on the board and committee of this, and I just always obviously have been all about girl power, so I cancelled my whole schedule to come here. It's crazy to me that it's 2019 and women still don't have that right. I thought this was figured out 50 years ago." said Paris Hilton. She also added "It's not fair that there are other people making laws for people's bodies for what they can do. For everyone to come together like sisters and really support each other, it's exciting. Women are coming together in a way I've never seen."
"I just couldn't believe that we still didn't have full rights in the Constitution under the law. We're one of only seven countries who have not signed onto CEDAW, [the U.N.'s Convention on the Elimination of All Forms of Discrimination against Women]." said Lizzy Jagger.
"It's a challenging time, but I hope it's a unifying time. I hope that it brings people out with a real awareness, understanding and desire to prevent any further rollback," Artist Will Cotton said. " In light of Alabama, no better time, right? No better time to be out here and showing support."
This event reached millions of people with multiple articles online and in print and that is due, in great part, to a wonderful addition to the EQUAL MEANS EQUAL team, Molly Krause, who did an incredible job with PR on this event. Also thanks to our superb house photographers for the evening, Aurora Rose for Patrick McMullan and Tiffany Sage for BFA.
One more state is needed to pass the Equal Rights Amendment!  Let's finish the job together. Whether by joining our social media, volunteering, or donating funds, please consider supporting our work.
Equal Means Equal!!
With love and thanks
Natalie, Kamala, Jules and EME Team