On Friday June 24th, EQUAL MEANS EQUAL Vice President Natalie White gave an interview while she was at the protest in New York City and told American women the truth: Biden is blocking the ERA. The interview went viral.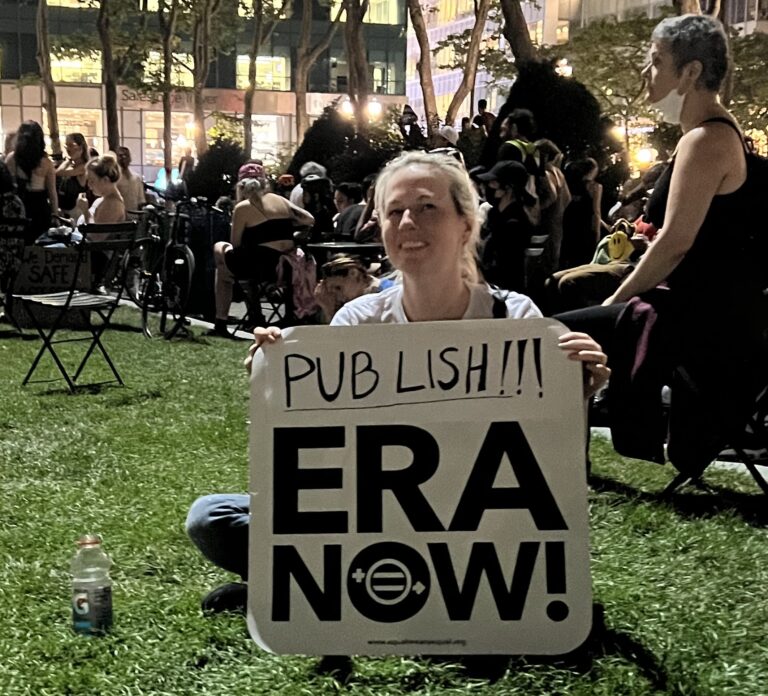 Hello EME members and friends! It's Natalie White, Vice President of EQUAL MEANS EQUAL and Friday June 24th will go down in history as the day women woke up.
We all knew this was coming. The inaction from Joe Biden and Kamala Harris to publish the Equal Rights Amendment, which would have (and still can!) constitutionally protect abortion rights, did not slip through the cracks.
President Joe Biden and Vice President Kamala Harris along with every other elected member of the Democratic Party have blood on their hands from every woman who will die attempting to seek an abortion, medically needed or not.
I attended the pro-choice march in New York City where every speaker put the blame on Biden, Harris, and the Democratic Party, as thousands gathered cheering. We started the protest at Washington Square Park and marched five and a half miles up Park Avenue blocking north and southbound traffic.  We went through the Met Life building tunnel, charged up to Midtown, stopped at Chuck Schumer's office then headed over to finish in Bryant Park.  Among our chants were, "Pro-Life is such a lie, they don't care if people die." and, "Not the church, not the state, you can't make us procreate."
The blame cannot be put on Donald Trump anymore. It is up to Joe Biden to now do his job and publish the Equal Rights Amendment. What did Biden and the Democrats do the day Roe was overturned? Did they solve the problem and publish the E.R.A.?
No. Instead they went out and raised money. Blood money.
So you know what I say? "Not another Dime to the Democratic Party until the Equal Rights Amendment is published!"
You want our money? You want our votes? Publish the Equal Rights Amendment NOW! You work for us. The only reason you have power is because we CONSENT to your power. Because we vote for your power. No more until E.R.A.!
An interview I gave at the rally was shared by Status Coup News and has over 65,000 views! Please help us get the word out by sharing:
https://twitter.com/statuscoup/status/1540718896121905156?s=21&t=o-h3gmkB8gO44GPc9lj5eA
And on TikTok it has over 128,500 views!
https://www.tiktok.com/t/ZTReE53hV/?k=1
Here it is on YouTube, where I come on at minute ten:
Natalie White on Status Coup News
"I got at least 10 emails and text messages today from Democrats asking me for their support—not another dime to the Democratic Party until women have a constitutional right to equality" —Natalie White tells @JordanChariton at NYC Roe v. Wade Rally
And in another good sign that E.R.A. is finally breaking through as a solution to the madness, check out Gloria Steinem's new interview in Oprah Daily: "The Roe v. WadeOverturn Has Made Ratifying the ERA More Urgent Than Ever" written by Leigh Haber.
Your support keeps us going forward.
In solidarity and sisterhood,
Kamala, Natalie, Joel, Jeff, Tom and the EME team