Check out this awesome podcast about the Equal Rights Amendment!  EME Executive Director Kamala Lopez sat down virtually with UnLadyLike's Cristen Conger and Caroline Ervin to discuss what the ERA is, its' history, and why we need it; the episode is called "How to Stop Getting Screwed in the SCOTUS"!!
Please share widely, especially with younger women who have never been introduced to the ERA.  The only thing we disagree with in the podcast is their suggestion at the end that we can Start Over on ERA ratification; EME believes firmly and unequivocally in the mantra of "One and Done."
By now all of you probably know EME's position that the deadline imposed on the ERA was unconstitutional and illegal and moreover that the philosophy of expending resources and energy on fighting a "deadline" battle at this point simply validates it when we have to go to court. We feel this plays into the hands of anti-equality forces.
EME went to the NOW Conference to represent this point of view and advocate that attendees join us in the fight to ratify the final state and keep our eye firmly on the ball!
We showed the documentary Equal Means Equal and held a separate panel discussion afterwards with our legal expert, impact litigator and Law Professor Wendy Murphy (live from Boston!) as well as Senator Pat Spearman (who drove ERA through in Nevada). Natalie and Kamala joined them to address frequently asked legal questions related to the ERA "deadline," and answer any other questions or doubts from ERA activists from across the country.
Special thanks to EME's Joel Marshall for dealing with multiple technical issues throughout the weekend as well as some sexist women at the conference. I've urged Joel to write a piece about what it's like to be a feminist man inside the women's movement today. Hopefully he will soon.
Thanks also to the entire EME Team who came to San Jose on their own dime including Natalie, Jules Wood, Rebecca Galvez, Eugenia Kuzmina, Judith Scheuer, Kim Starzyk, Jill Greenberg, Maeve Barry & Paulette Burt Santos.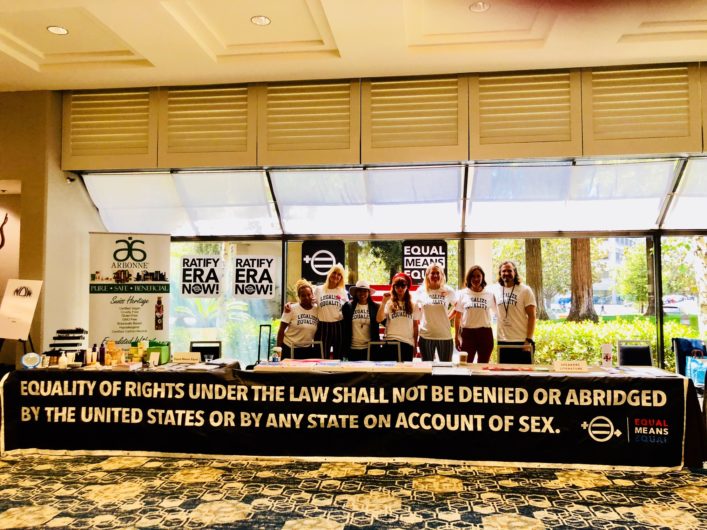 And lastly, thanks to Cheryl Crim & Julie Eagle who sent EME greetings from the Sewall-Belmont House in Washington, D.C.
Home to the National Woman's Party for nearly 90 years, this was the epicenter of the struggle for women's rights. From this house in the shadow of the U.S. Capitol and Supreme Court, Alice Paul and the NWP developed innovative strategies and tactics to advocate for the Equal Rights Amendment and equality for women.
Is it time to revive the National Woman's Party?  Equal Means Equal says HELL YES!!
With love and thanks,
The EME Team