Equal Means Equal, which filed the first lawsuit against Education Secretary Betsy DeVos for encouraging schools to violate the civil rights provisions guaranteed to women and girls under Title IX, vowed Wednesday, May 6 to take the Trump administration back to court now that DeVos has formally issued regulations weakening protections for women on college campuses.
"We sued Betsy DeVos in 2017 when she opened the door to reversing Title IX protections, and we will be taking her back to court now that she has formalized her obvious strategy to set women back 100 years," Equal Means Equal's President Kamala Lopez declared.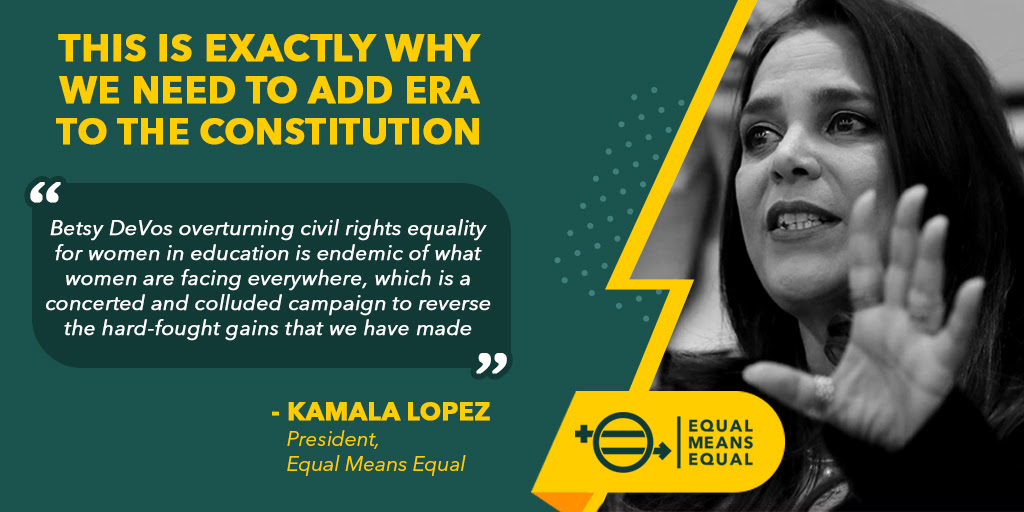 DeVos weakened Title IX's safeguards when she issued regulations on May 6, 2020, removing longstanding rights to equality and "equitable" redress when they report sex discrimination, including sexual assault, on campus. Despite claims by DeVos that campuses will be safer under her new edicts, it is clear that she is creating a system that for the first time in Title IX history will subject women to second-class treatment and allow violence against women to on college campuses.
In October 2017, Equal Means Equal and three women who were sexually assaulted in campus-based incidents, became the first litigants to sue DeVos and the Trump administration after they issued interim rules a month earlier that weakened Title IX.
Read our 2017 Title IX lawsuit here.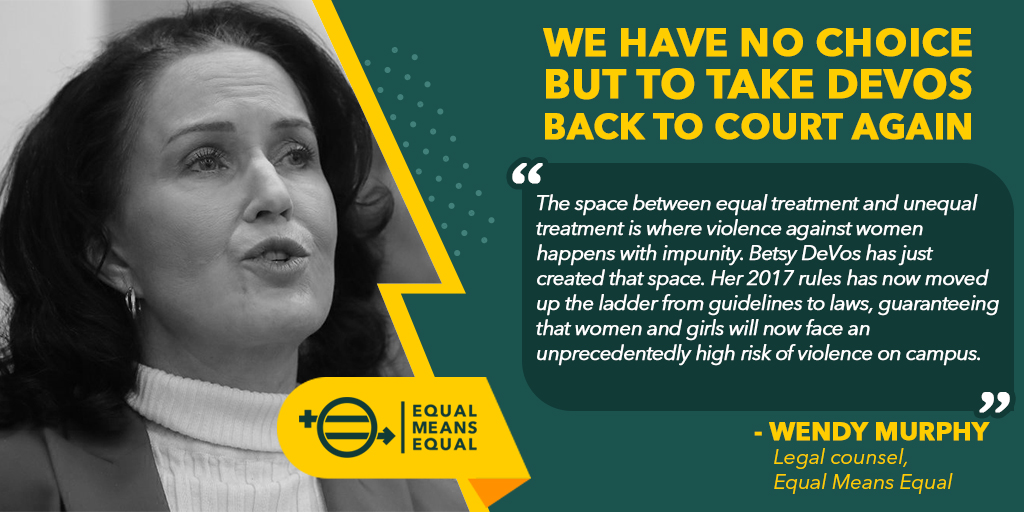 Equal Means Equal's Legal Counsel Wendy Murphy said. "While we fight this battle, we should all remember that if the ERA were in force, none of this would be happening because unequal treatment of women in education or anywhere else would be unconstitutional."
Download our ERA ratification lawsuit here.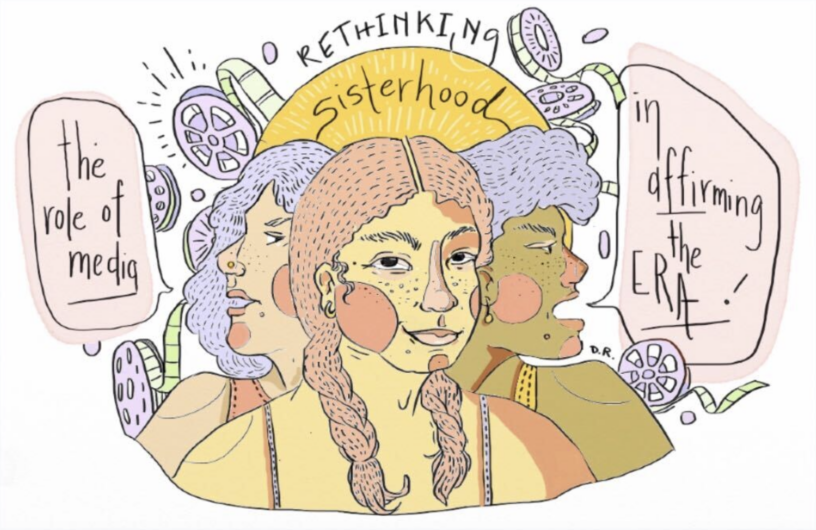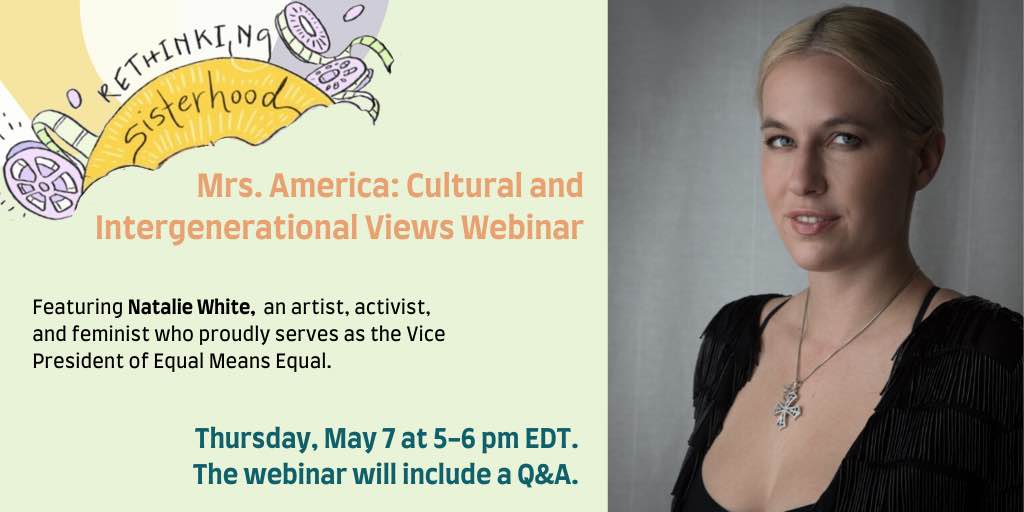 You can register for the next one, "On the Ground Experiences with Characters in Mrs. America", this Thursday, here:
https://www.mobilize.us/generationratify/event/271498/
The webinar speakers are
Laura Carter Callow, a frontline advocate for the Equal Rights Amendment in Michigan since the 1970s.
Bamby Salcedo, a national and international transgender Latina Woman, President and CEO of the TransLatin@ Coalition.
Jennifer Hall Lee, a feminist filmmaker and writer, director of the 2013 documentary release "Feminist: Stories from Women's Liberation." She serves on her local town council.
The role of these webinars is to bring activists, artists, and political leaders together as well as interested public to discuss the ways in which the media and citizens around the country can come together to shine a light on the significant efforts being made right now to turn the ERA into the constitution's 28th Amendment.
Equal Means Equal is committed to continue to find ways to educate the public on this critical issue, using all means available.  We hope you will help us spread the word about these seminars and engage actively in your community to raise awareness of the Equal Rights Amendment.

The state of Hawaii proposed something called "feminist economic recovery plan." The state wants to build a system that is capable of delivering gender equality.
A universal basic income. Special emergency funds for marginalized groups, including undocumented immigrant women, domestic workers, women with disabilities and sex-trafficking survivors. Waived co-payments for covid-19 tests and treatment, including for incarcerated women. A 20 percent pro rata share of the covid-19 response funds the express recovery needs of the indigenous population. A $24.80/hour minimum wage for single mothers. Free, publicly-funded child care for all essential workers.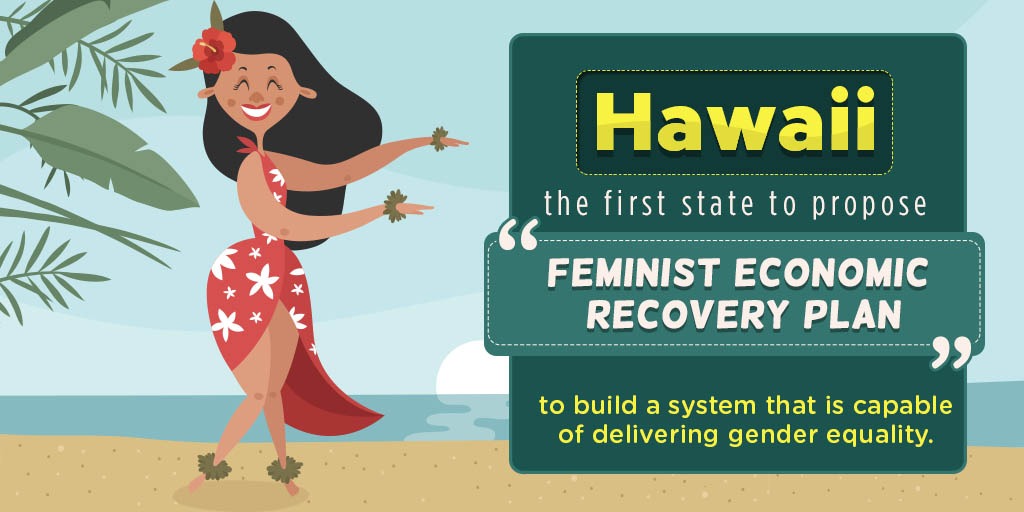 "I have not seen any state or nation propose a feminist economic recovery, a recovery that explicitly centers women or attempts to counteract patriarchy. Even proposals from left movements in the U.S. are missing this. They are bold on race and class, but gender is taken for granted. People don't seem to understand the fundamental role of patriarchy, and how to tie gender in with race and class. So, I turned to the people with real power — women organizing in our communities who are active inside and outside government. This plan provides a blueprint" says Khara Jabola-Carolus, the commission's executive director.
Read more : This state says it has a 'feminist economic recovery plan.' Here's what that looks like.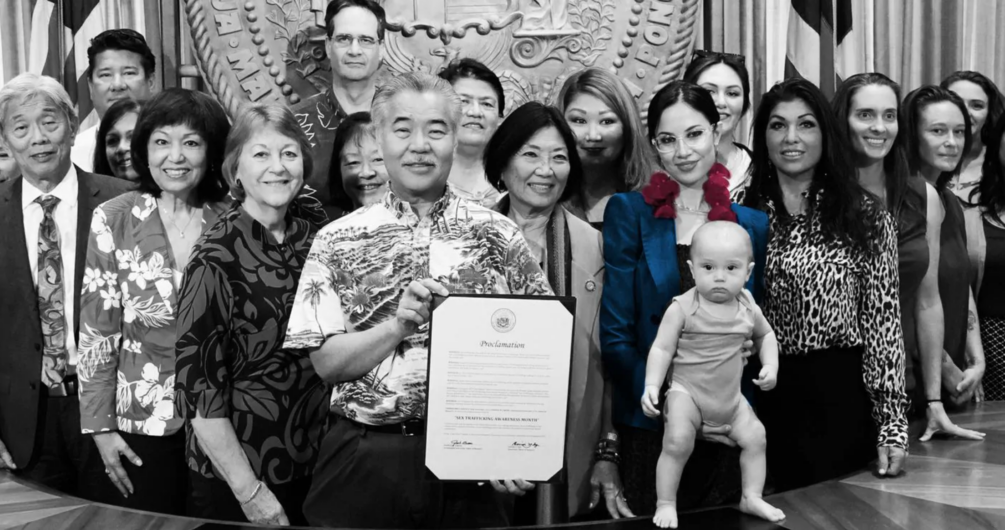 Your support keeps the fight for equality alive. We expect a protracted and costly fight in the federal courts, spread over several states. Our opposition is organized, well financed and committed to doing all in its power to block the ERA. We cannot win this fight without your help. Your kind support is the only way we can prevail.
With love and gratitude,
Kamala, Natalie and the EME Team