We told you we had some exciting news for you and here it is! EQUAL MEANS EQUAL is taking the lead in planning ERA Birthday parties across the nation – and we're starting by spreading the LOVE.
It's time to take things to the next level & share ERA Love this Valentine's Day
with our "Love is for Everyone" Bake Sale.
This is the year the Equal Rights Amendment turns 100! And it's closer to publication, adoption and enforcement than ever before. We must seize the moment (and momentum!) NOW.
Make a $5 donation via the equalmeansequal.org website to support the upcoming nationwide Centennial celebrations and get an exclusive collection of 7 awesome digital artworks. These will only be available for a limited time and ONLY by making a donation of $5 or more to the "Love is for Everyone" Bake Sale. Don't forget to share your favorite "treat" from the bake sale on all your socials! They also make a great gift.
Love is for Everyone.
The Constitution should be too. Spread some #ERA100 Love today with the exclusive Valentine's Day Collection. Available only for a limited time at equalmeansequal.org
You only turn 100 once so it's time for a Birthday Party.
Parties actually. 
Please start spreading the word about the "Love is for Everyone" Bake Sale by using the ready-to-roll content available in the Dropbox Link, or create your own!  Feel free to use any of the free assets provided here:
https://drive.google.com/drive/folders/1Q_fcsS9kkHuk6VbzUuBi7XjFRioBi51B?usp=share_link
Here are some blurbs and hashtags you can use on social when talking about the "Love is for Everyone" Bake Sale:
Roses are Red, Violets are Blue, Women deserve Equal Rights in the Constitution Too!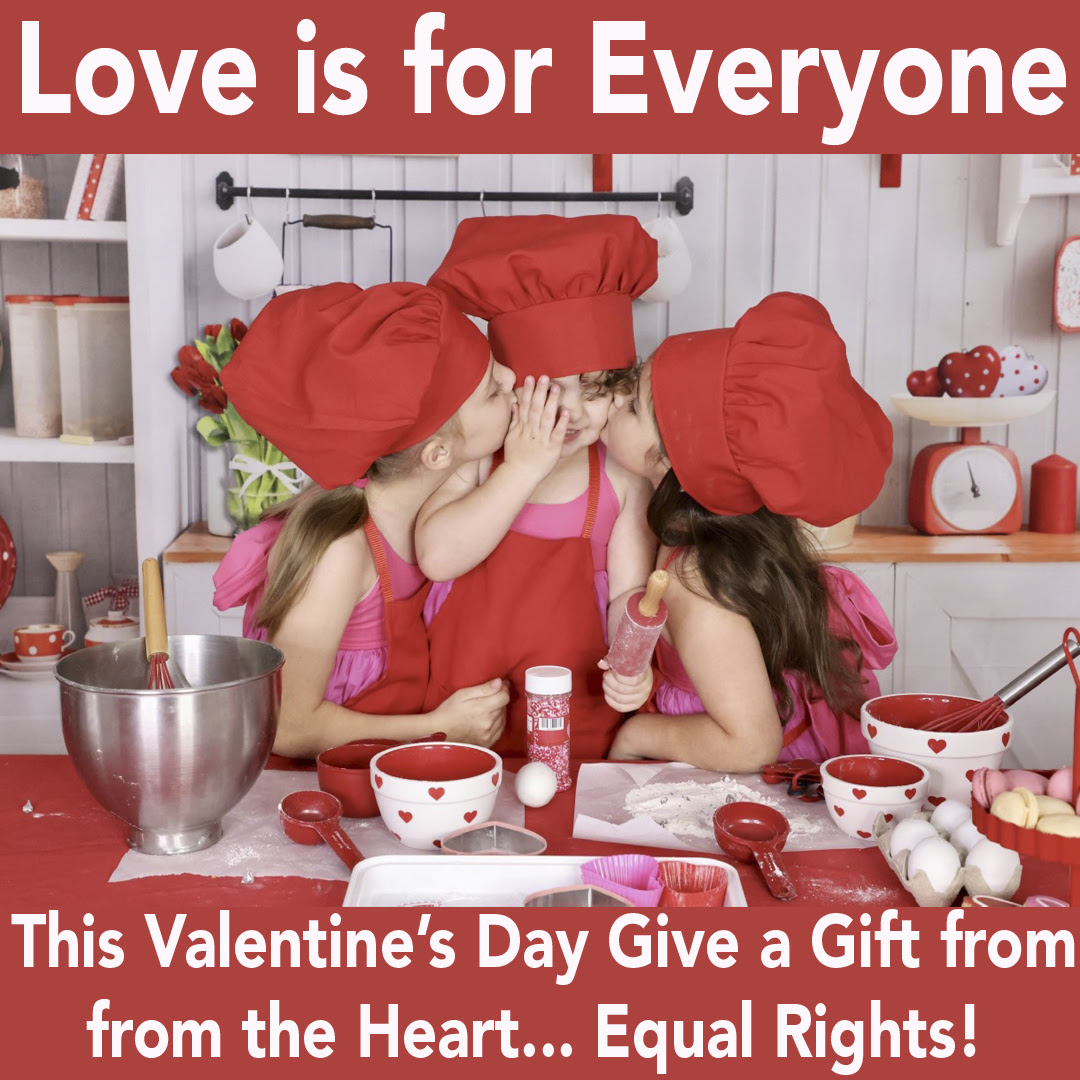 Looking to Spread the Love this Valentine's Day? There's no better way to say "I Love You" than supporting #EqualRights! What's not to love about that? One of the best (and easiest) ways you can do just that is by joining the "Love is for Everyone" Bake Sale! Each $5 donation gets you an Exclusive 7 image Collection Digital Download created by artists from around the country.These pieces are available only at equalmeansequal.org and will only be out for a limited time! All proceeds go to supporting the #ERA100 Birthday Parties Nationwide
We promise we won't keep you waiting too long on more details about #ERA100, it's going to be EPIC and it's right around the corner…
We love each and every one of you and we are grateful for your steadfast support.
Be sure to grab yourself some goodies at our Love is For Everyone Bake Sale now; follow, share and like us on social media and give yourself a big hug.  You deserve it.
xoxoxox Alice, Kamala, Natalie, Joel and the entire EQUAL MEANS EQUAL team