We are disturbed but not surprised to have to let you know that a bipartisan resolution that would have recognized the ratification of the Equal Rights Amendment failed to get a filibuster-proof majority.
"The resolution failed 51-47. Although it had two Republican co-sponsors – Sens. Lisa Murkowski of Alaska and Susan Collins of Maine – most GOP senators opposed it. Republicans have generally argued they don't think the amendment is needed because of the equal protections provided to women in the 14th Amendment.
Supporters, however, say the ERA would ban discrimination on the basis of sex and guarantee equality for all under the Constitution." – CNN Politics
Revived push for Equal Rights Amendment blocked by U.S. Senate Republicans
"The vote was briefly interrupted by a protester who began yelling from the gallery when Texas Republican Ted Cruz walked onto the floor to cast his vote.
"Letting Cruz into this chamber puts the ERA at risk," the protester yelled.
"… Poor women cannot afford lawyers to save their own lives."

U.S. Capitol Police escorted the woman out of the gallery seats but yelling briefly continued in the hallway outside the chamber."
The protestor that disrupted the Senate vote was EQUAL MEANS EQUAL Activist Elizabeth Croydon, who remains in custody.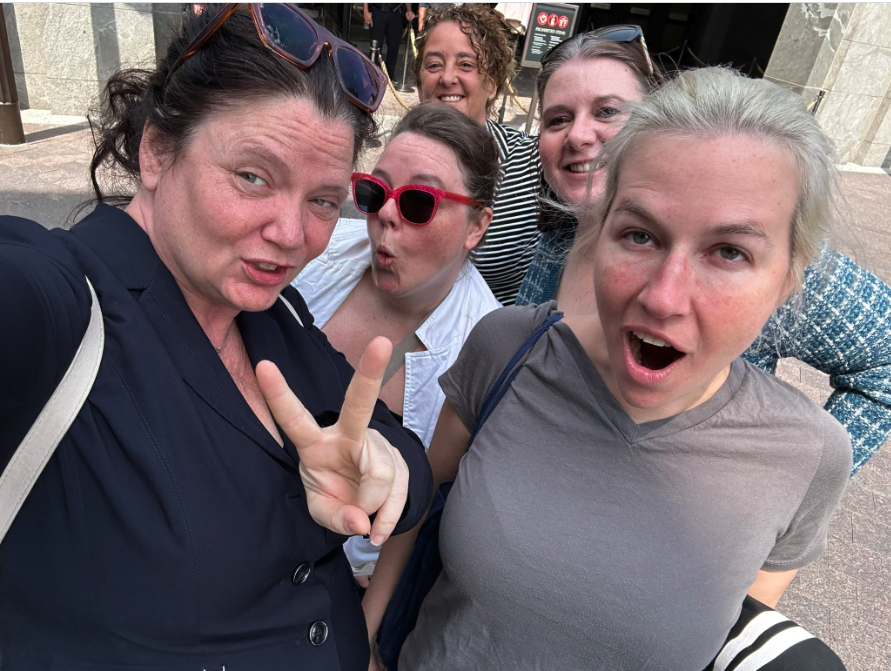 From left: Elizabeth Croydon, Alice Crenshaw, Nicole Vorassi-Bates (in back), Amanda & Natalie White 
EME Vice-President Natalie White, Director of Communications Alice Crenshaw and Shattering Glass attorney Nicole Vorrasi-Bates were all present when Elizabeth disrupted the vote and was removed by the Capitol Police.
We all expected her to be released within hours after having asserted her First Amendment rights.  Elizabeth was simply informing the Senate that they were violating the human and civil rights of their female constituents by failing to demand the President order the Archivist to publish the ERA, as required by law.
Instead she has been kept in jail and was then transferred to another jail in Washington DC.  She was not allowed to speak to anyone – we still have not been able to communicate with her at all.  Nicole is representing her and as her lawyer still has not been allowed to speak with her.
Elizabeth is not the criminal – this government is criminally withholding our rights and
the President is criminally negligent in
failing to faithfully execute the laws!
Firsthand account from EME VP Natalie White:
"After multiple time changes, the Senate finally held a vote on validating the fully ratified ERA on Thursday April 27th at 12:30pm. After a while of watching political performance art designed to harm women, Elizabeth Croydon was spontaneously inspired to loudly voice her disgust for both President Biden and Ted Cruz simultaneously- it was amazing. 
Her first amendment free speech was included in the permanent records of history by the court stenographer, C-Span, and everyone in attendance who could hear her all throughout the Senate Gallery. She made it be known to the world that Joe Biden could immediately publish the Equal Rights Amendment and by not doing so, he harms women- especially those who are poor and lack economic means.
Following her arrest I immediately followed up with the Capitol Police who said she would most likely be let out within an hour or two. I waited.. no phone call. 
Attorney Nicole Bates jumped into action and was DENIED access to meet with or speak to her client. Elizabeth was DENIED a phone call. The police said all of this was due to Elizabeth being released soon but over 24 hours and a full night later she has still been denied a phone call and access to a lawyer.
We're not shocked- women are denied their basic human rights here in the US on a daily basis so of course a woman fighting for her own rights would be denied equality."
If your Senator voted against equality for women, let them know that we will be mobilizing against them.  Basic civil and human rights cannot continue to be withheld from half the U.S. population without consequences.
From the very beginning the battle for the ERA has been an uphill one; there are very few things the powers-that-be won't do to keep equal rights for all out of the Constitution.
They silence and jail us; they keep us busy fighting for the same things over and over again; they intimidate and threaten; they co-opt and take over our organizations; modifying the message and end goal to suit their own needs. It is confusion that is their favorite and best weapon in this battle. We know not everyone can stand up to our leaders face to face like Elizabeth did, but there are so many ways you can help win this fight.
Any donations, big or small are much needed, as we obviously now have some legal bills headed our way (we never leave a friend behind). More importantly, we need to cut through the bullcrap and GET THE TRUTH OUT THERE.
Every day the ERA remains unpublished more people suffer and die. Congress does NOT need to "double-stamp" the ERA, it has been fully ratified since 2020 and held hostage ever since.
We cannot and WILL NOT wait for the 2024 election; Biden has a duty to publish IMMEDIATELY. So please keep sharing and interacting with the content, telling your friends and family, calling out your elected officials at all levels, throwing #ERA100 Birthday parties, and give when you can because every single thing you do counts right now.
With love, in solidarity and with fierce determination, your friends,
Kamala, Natalie, Alice, Elizabeth, Nicole, Jean, Joel, Rob, Tom, Roberto, Jeff and the EQUAL MEANS EQUAL Team