The E.R.A. Feminist Art Show 2023
"Sembramos Sueños para Cosechar Esperanza"
(Planting Dreams to Harvest Hope)
Show runs AUGUST 27 – SEPTEMBER 26, 2023
Gallery Hours: Fri, Sat, Sun 12pm-5pm
Long Hall, Plummer Park, 7377 Santa Monica Blvd.,
West Hollywood, CA 90046
SHOW IS FREE AND OPEN TO THE PUBLIC.
FEATURING:
Rosario Martinez "La Piztola" – Corrie Mattie "LA Hope Dealer"
Synowin Peters – Elyse Pignolet – Amy Smith
Mynxii White – Natalie White – Whitney Yoh
Click image above to watch video and see the exhibit virtually
The ERA Feminist Art Show serves as a platform for female artists to share their unique perspectives, experiences, and speak their truth. It reminds us of the power of art in driving social change.
The goal of EQUAL MEANS EQUAL's show is to celebrate the talents of an exceptional group of female artists while educating the public on the Equal Rights Amendment, the urgent need for progress in women's rights and the importance of civic engagement.
The exhibit showcases the talent, creativity, and resilience of artists exploring diverse themes including equality, feminism, gender identity, social justice, and the ongoing struggle for women's equality. Through paintings, sculpture, photographs, murals, and video this exhibition aims to shed light on the importance of equal rights for women while raising awareness about the challenges they face in society.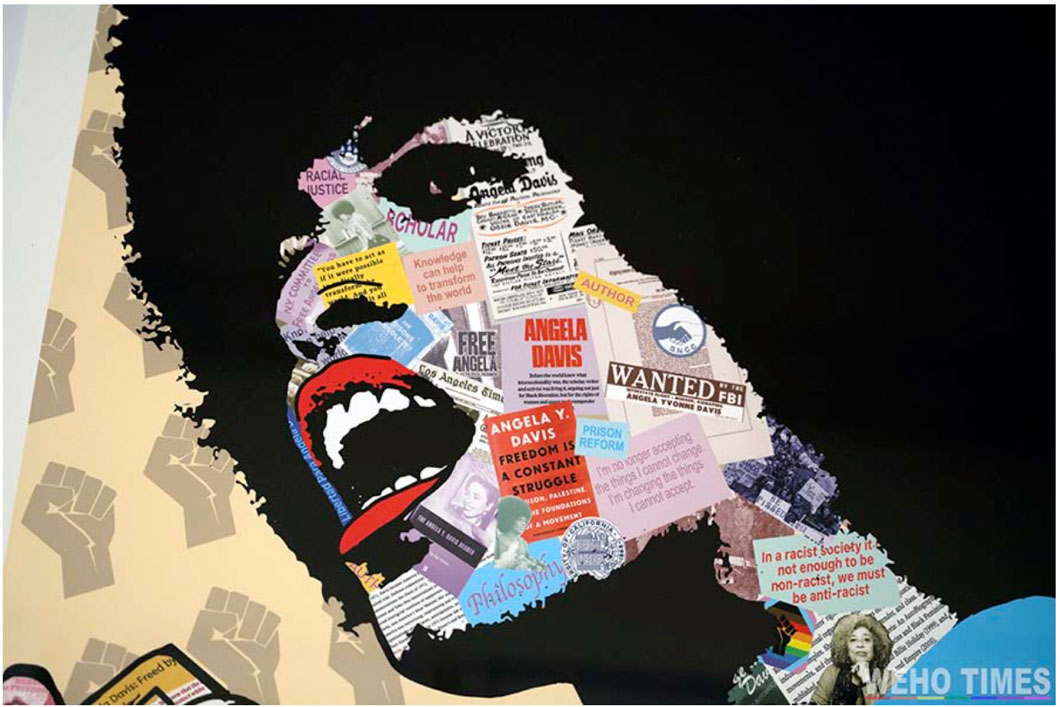 Throughout the exhibit EQUAL MEANS EQUAL hosted events and activations including on Women's Equality Day when the West Hollywood Women's Advisory Board and City Council attended the exhibit and spoke about the importance of women's equality and their commitment to partnering with us over the years.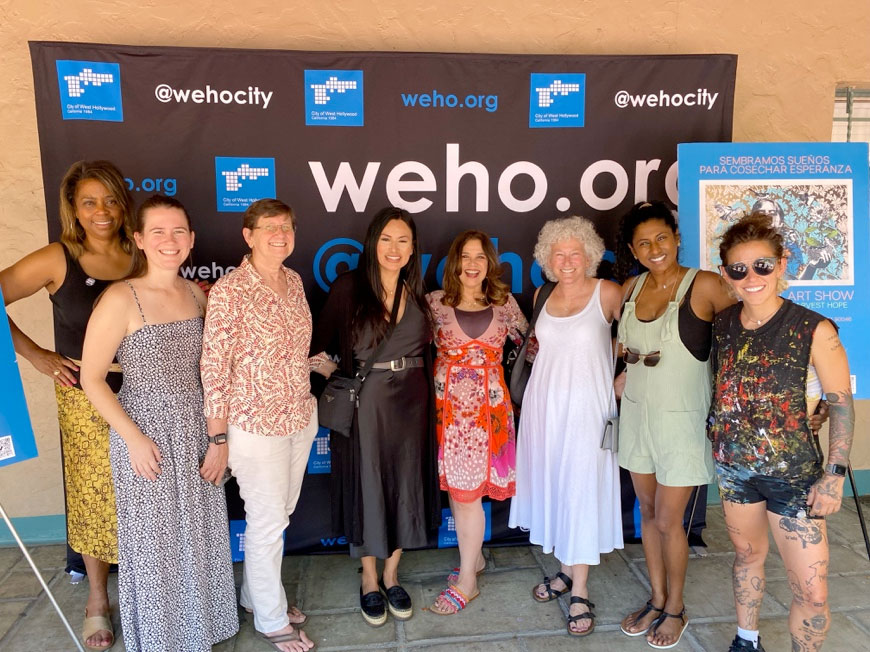 And on Constitution Day (September 17th) EQUAL MEANS EQUAL hosted a special event to commemorate this important day with special guests: Mexican-American songwriter & performer Nancy Sanchez, a live art activation by LA Hope Dealer, Corie Mattie and the League of Women Voters, who partnered to register voters.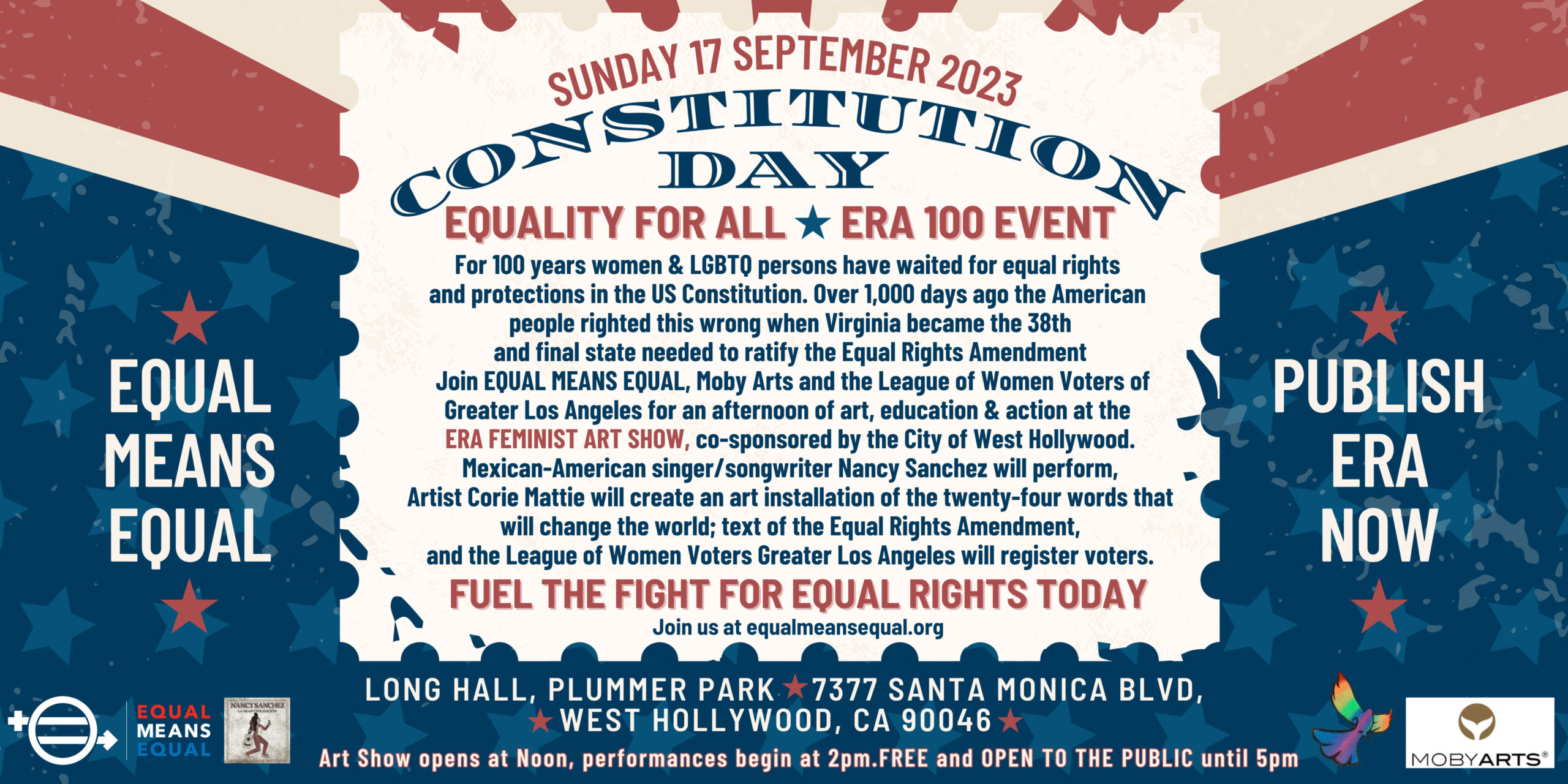 Presently, female artists are systematically shut out of the upper echelons of the art world and vastly underrepresented in art museums, shows and collections. In the United States over 85% of the artwork displayed in museums are created by white, male artists. So, while nearly 70% of fine arts degrees are earned by women and nearly 50% of visual artists today are women, a woman's work sells for around 40% less, on average, than a man's. In fact, of the close to 200 billion spent at art auctions between 2008 and 2019, work produced by women accounted for only around 2% of the total sales.
The sad reality of gender bias in the art world is exemplified by the fact that when a man signs a piece of art it increases in value, and when a woman does, the value goes down.
EQUAL MEANS EQUAL is determined to help change this egregious situation, and hope you will join us by supporting the extraordinary work of our featured artists and buying their extremely well-priced original art. It's a triple win: the artist is compensated for their work, our non-profit receives much-needed support and you own a gorgeous artwork that will bring you joy and increase in value for years to come.
Below is a link to the online auction for truly unique and distinct pieces by Lapiztola (Rosario Martinez), Whitney Yoh, Mynxii White, Natalie White, Amy Smith, Siyowin, Elyse Pignolet, Sara Sandoval and Corie Mattie.

Whether it is life imitating art or vice versa, the gender gap in the art world and the wider world remains a chasm; where women take two steps forward and one step back, trapped in a never-ending cycle of piecemeal progress with constantly moving goal posts. The fact of the matter is from the moment they are born until their last breath, women in this country are legally second-class citizens and until they have equal rights and protections in the Constitution they will remain so.