On January 22nd, Equal Means Equal performed a direct action in front of the White House as an homage to Inez Milholland and the Women's Suffrage Parade of 1913. One hundred and five years later, we returned to the White House, after our three month long daily Silent Sentinel Vigil concluded, and delivered a declaration to the White House and this administration that enough is enough!
Kamala and Rachel Donlan dressed at Handmaids from the dystopian future that Margaret Atwood predicted in 1985, warning us about what could happen to women without equal rights protections; Seven Silent Sentinels (Tupelo Miller, Erica Madrid, Elizabeth Croyden, Alison Wren, Rosina Memolo, Cindy Nicolaou, Ruby Chen) stood watch with sashes and signs, ghosts of our suffrage sisters, and I channeled feminist heroine, Inez Milholland, atop a white horse!
We delivered a theatrical and urgent message to this government and our beloved nation: Ratify the Equal Rights Amendment immediately!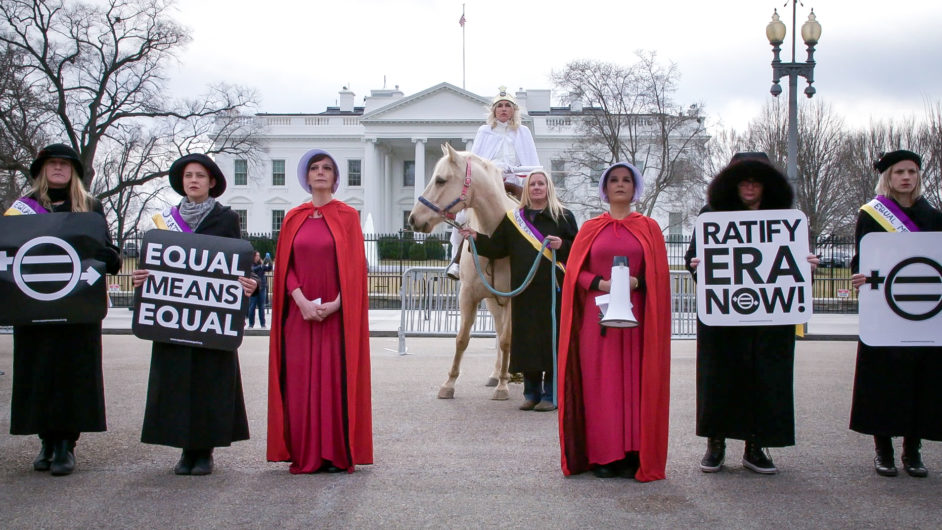 Because, we the people of the United States, in order to form a more perfect union, establish justice, insure domestic tranquility, provide for the common defense, promote the general welfare, and secure the blessings of liberty to ourselves and our posterity,
MUST INCLUDE WOMEN AS EQUAL!
Written in 1787, when women had no rights at all, women were deliberately left out of the U.S. Constitution. But we are here to change that. As we said in front of the White House: there are 14 states holding up equality for all American Women and that needs to end now.
We hope you find this video inspiring and funny – we had a great time making it and THANK YOU to Cheryl Crim & Julie Eagle who stepped up and stayed up all night, shooting, editing and helping make this happen.
Handmaids Tale White Horse Red Ladies Protest in Favor of Ratifying ERA
White Horse and Red Ladies