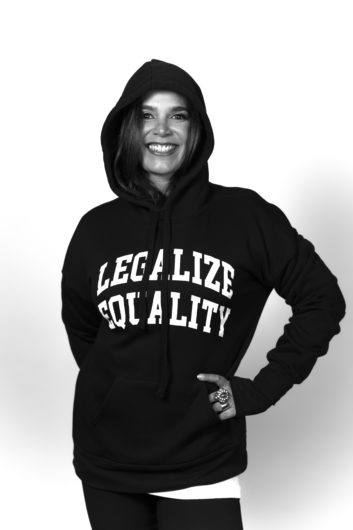 Founder/President
Actress, filmmaker, activist & President of Heroica Films, Kamala Lopez, launched the movement and documentary film Equal Means Equal, to educate Americans about the importance of equal rights under federal law for women and complete the ratification of the Equal Rights Amendment to the U.S. Constitution.
Equal Means Equal was released in the summer of 2016, and it went on to win Best U.S. Documentary (Audience Award) at Michael Moore's TCF Festival and was a New York Times Critics' Pick.  The film began to be used by activists across the country in community screenings, house parties and online to reinvigorate the fight to complete ERA ratification.  Then, in March of 2017, after over thirty-five years of inaction, the Equal Rights Amendment was ratified in Nevada and in Illinois on May 30th of 2018.
Deputy Majority Leader of Illinois House of Representatives, Louis Lang, Sponsor of the ERA said in a letter:
"As you know, I have been working in the House for twenty-five years to accomplish this, and without your help, this year's vote would have ended as another failed attempt.  Your exemplary leadership and strategic actions were felt throughout the state and the nation."
Born in New York City to an Indian mother and a Venezuelan father, Lopez has worked as an actor in over thirty feature films including Born in East L.A., Deep Cover, The Burning Season (winner of 2 Emmys, 3 Golden Globes and the Humanitas Prize), Clear and Present Danger, Lightning Jack, and I Heart Huckabees.  She has starred in over sixty television shows including Medium, 24, Alias, NYPD Blue, Hill Street Blues, Miami Vice, and 21 Jump Street (winner of the Imagen Award). She hosted the PBS series Wired Science.
Lopez, a Yale University graduate in Philosophy and Theatre Studies, formed production company Heroica Films in 1995 with the mission to write, direct and produce media for women, about women and utilizing women both in front and behind the camera.
Her film, A Single Woman, about the life of first Congresswoman Jeannette Rankin, won the 2009 Exceptional Merit in Media Award from the National Women's Political Caucus. In 2013 her short Spanish-language film "Ese Beso" won the Jury Award at the Senorita Cinema Festival and the Audience Award at the Boyle Heights Latina Film Festival.
In 2009 Lopez began the ERA Education Project, creating multi-media PSA's, video FAQ's, social media campaigns, educational videos & sites, piloting curriculum and travelling around the country speaking to groups as well as students in colleges and high schools.
She has been the Keynote or Featured Speaker in venues as disparate as the Smithsonian Institution's National Portrait Gallery, the United Nations, The National Arts Club, at the YaleWomen Global Conference as well as to "at-risk" girls and other children in L.A. Mayor Villaraigosa's Partnership for Los Angeles schools.
Lopez's work on behalf of women and girls has been recognized by Los Angeles County's Board of Supervisors and the Women's Commission who named her 2015 Woman of the Year (Arts/Media).
In 2012 Women's eNews selected her as one of the 21 Leaders for the 21st Century and the National Women's Political Caucus named her the 2011 Woman of Courage.
In 2016, the State of California awarded her the Latino Spirit Award for Achievement in Advocacy and Entertainment and the national civil rights group Equal Rights Advocates named her Champion of Justice.
She has just received the inaugural YaleWomen Impact Award for Excellence, which she will accept at the National Press Club in March of 2019.